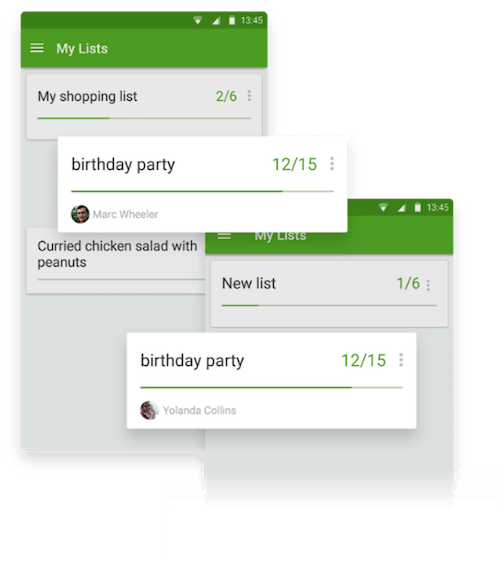 Share Lists with Friends and Family
A problem shared is a problem halved, and a shopping list shared is a chore made quicker and easier.
Your shopping lists can be shared with friends and family directly from the app. This can help you with your weekly groceries or even plan special events like a birthday party or holiday celebrations.
You can also easily share all your shopping lists via text, email, or sending a link directly from the app.
Share across any device

Get Notified About Any Changes
When someone you've shared your list with adds or checks off an item, the list on your device will instantly reflect that change.
This means you'll always see the most up to date version of your shopping list.
Everyone receives timely notifications when any changes are made and when new lists are shared.
Lists are never out of sync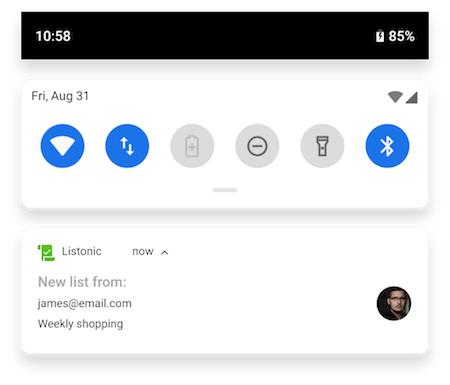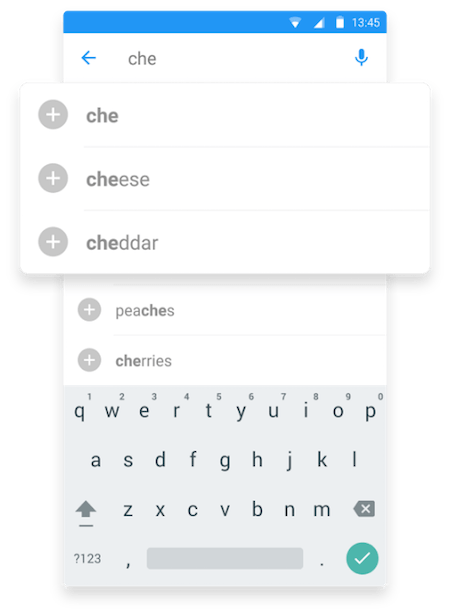 Smart Suggestions for Faster List Creation
Did you know that 70% of the products we buy are recurring items?
Therefore, when you're creating your shopping list, Listonic will suggest products that are relevant to you.
Products that you buy frequently will appear even before you start typing, which makes creating a list even faster. Alternatively, you can make a list using our catalog of over 3000 of items, or add your own custom items.
Automatically recognizes quantities and units

Add Your Own Photos
You can add photos to your items so you or the person you've
shared your list with, knows exactly which brand to buy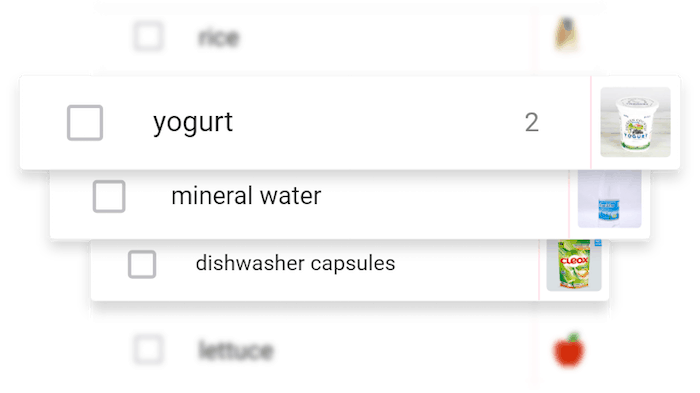 Always buy the brand you want

Add Prices to Help You Budget Better
Add prices to your items and instantly calculate the cost of your entire shopping list, including a running total of your list as you use it.
You can also add the price per unit so Listonic can calculate the total price for items of multiple quantities.
If you've added a price to an item it will be remembered, so you won't need to enter it again when making a new list.
Keep spending on track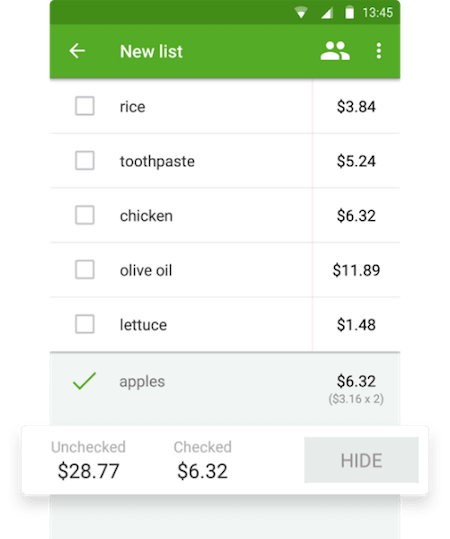 Fast and Accurate Voice Input
Save even more time by using your voice to add multiple items to your lists, or even create
entire shopping lists.
Just say "and" between each item and they'll be listed separately. You can even use your
smartwatch to add items and lists using your voice.
This means you can create a list even quicker, whilst doing something like cooking, or when
you're stuck in traffic.

The fastest way to make a list ⚡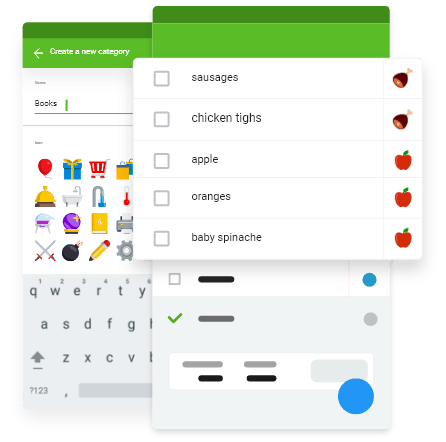 Smart and Custom Categories
The items you add are automatically placed into aisle categories.
This means you can pick up all your dairy items at the same time rather than running around the store buying things in the order you wrote them on your list.
Have an item that doesn't fit into any of our categories? Create an unlimited number of custom categories when you need them, and assign them a unique icon from one of hundreds to choose from.
Items sorted into store aisles

Never Lose Your List
Losing or replacing your phone doesn't mean losing your shopping lists.
All your shopping lists are saved in the cloud.
This means they won't get lost, and you won't have to make your list again if you're using a different device.
Backed up and secure in the cloud ☁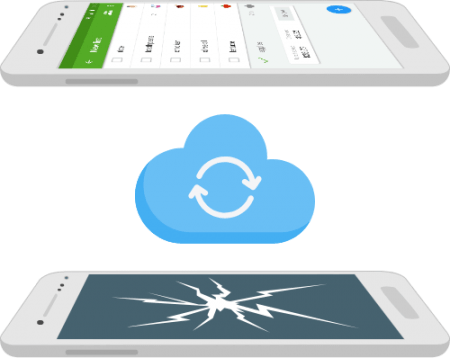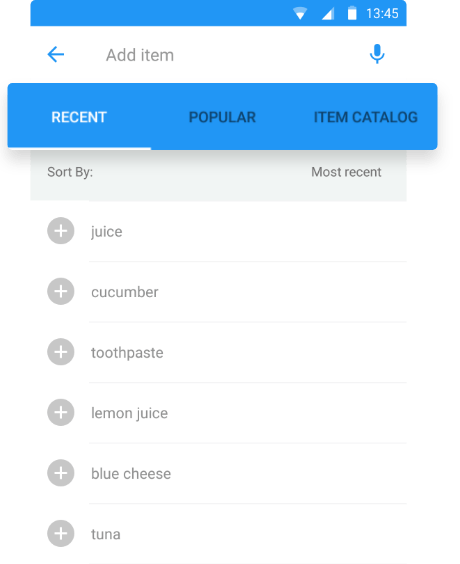 Make Quicker Lists Using Your Shopping History
Our shopping habits don't change much: we buy over 2/3 of the same items on every trip.
Knowing this, you can use your shopping history to make new lists even quicker. View your history by most recent or most popular so you can quickly make a new list using items you've added before.
What's more, if you added prices to these items, they will still be there when you create a new list.
Items you always buy are easy to add

Make Lists for Any Occasion
You can make and share as many different lists as you like. Need different lists for different stores? Sure. Need an extra list for a special occasion? Can do.
You can even create lists that aren't for shopping. Use Listonic to create a newborn baby checklist, plan your holiday, or even a to do list for moving!
Unlimited lists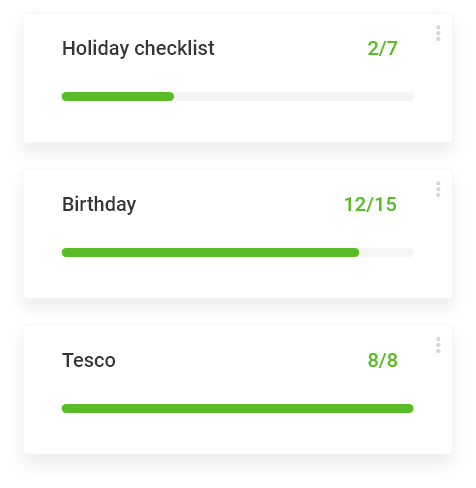 Sync Across Android, iOS, PC, and more
Your list is stored in the cloud which means you can view the same list, as well as receive all
updates and notifications, on any device including Android and iOS.
You can even make and edit lists using our web version, meaning your
can sort out your grocery list at work or at home without turning on your phone or tablet.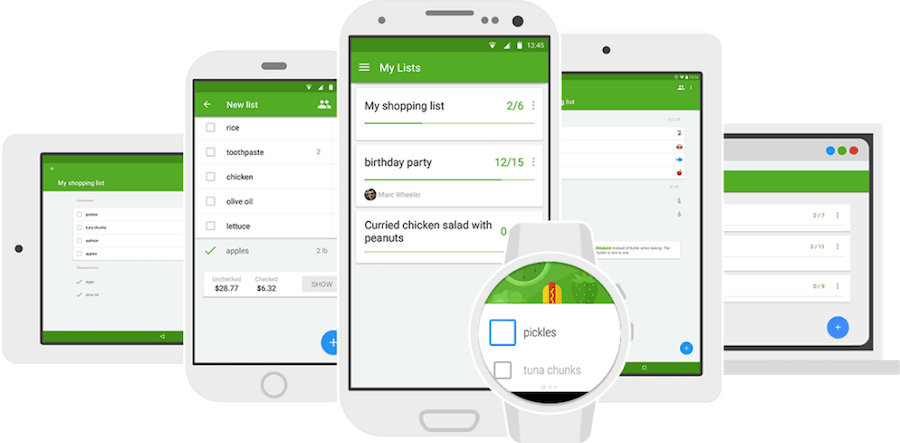 Create Lists On Your PC
As well as being available across all platforms, you can use your PC at home or at work to create lists and make changes.
It's as fully functioning as the mobile app meaning there are no surprises or new things to learn when sorting out your shopping lists using the web version.
Just like the mobile app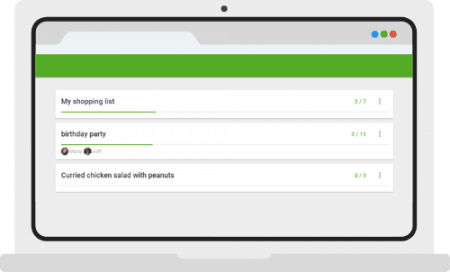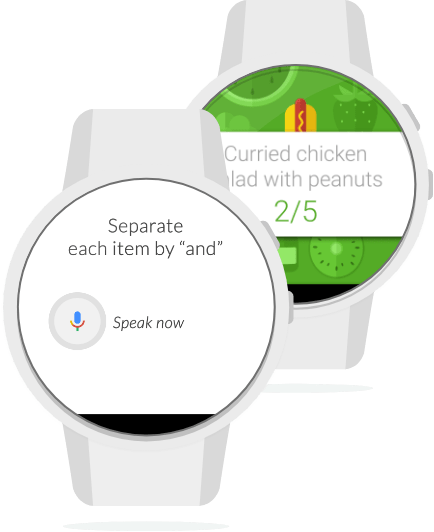 Your Shopping List on Your Wrist!
Listonic has smartwatch support meaning that not only can you wear your shopping list on your wrist, but you can make, edit, and check off items too.
You can even use the microphone on your smartwatch to add items and make lists just like on the phone app.
All this means there's no need to even take your phone out during a shop as you view and use your lists directly on your smartwatch, all with smooth and colorful design.
Never take your phone out ⌚

Handy Home Screen Widget
Always find the Listonic app quickly and easily using our handy widget.
Add items directly from your home screen, including with voice input.
Simple and speedy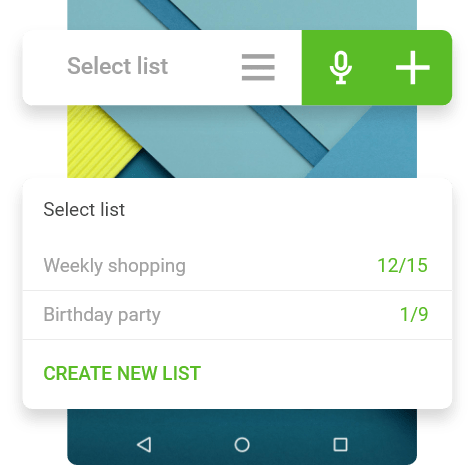 Hand-Picked Hints and Tips
Our tailored tips are not only interesting but they can help change the way you shop and eat.
These handy hints can help you save money, give you fresh recipe ideas, make you shop more eco-friendly, and eat cleaner.
The hints and tips that appear are also tailored to what you add to your list, so you will only see those that are relevant to your shop.



Available in Over 40 Languages
Create shopping lists all over the world! Listonic is available in 40+ languages including Chinese (simplified), Russian, and Arabic.
We have a global team of translators constantly working on translating Listonic into many more languages
Your lists are also localized to your country, meaning you have items that you wouldn't find anywhere else.