Every year a special dinner is put on by Scots to celebrate the memory of one of their greatest poets, Robert Burns: also known affectionately as Robbie Burns. Every January, Burns Night is a celebration held in his honor across Scotland and around the world by people of Scottish descent. If you want to host your own Burns Night supper, or simply want to discover Scottish cuisine, then look no further than our Burns Night shopping list template, which you can even download and print out for free.
Top Rated Shopping List App
Share And Synchronize An Unlimited Number
Of Lists With Others Instantly and Easy
Overview
But what is Burns Night? Well, it's an evening of traditional Scottish food accompanied by ceremony and recitations of Burns' work.
Robert Burns is perhaps one of Scotland's most influential poets and a key figure in the romantic arts movement. Born in Alloway, Scotland, in 1759, he wrote poems, epithets, and even songs. Even if you can't think of one of his works off the top of your head, it's highly likely you'll have come across his work before. "Auld Lang Syne" is a musical setting of one of his poems which is sung at midnight on New Year's Eve. John Steinbeck's unforgettable novel Of Mice and Men takes its title from a line of Burns' poem, To a Mouse:
"The best laid schemes o' mice an' men / Gang aft agley (often go wrong)"
But before we launch into the shopping list itself so you can host your own Robbie Burns day supper, here are some FAQs. Of course, you can skip the guide and go straight to the free printable list template if you wish.
Burns Night FAQ
When is Burns Night?
25 January. The date marks the poet's birthday.
What's on the Burns Night menu?
Usually it's a starter of cook-a-leekie soup (made of chicken, leeks, and grains), a main of haggis (a dish made with sheep's offal) and neeps and tatties (a mash made of parsnips and potatoes), followed by a desert of cranachan (a dessert made of oats, cream, raspberries, and whiskey).
However, the starters and dessert can vary. But the haggis and neeps and tatties are an ever-present tradition.
You mentioned a Burns Supper ceremony: What does it involve?
The BBC has a comprehensive running order of the ceremony. Of course, it's up to you how much you adhere to this. The keystone of the ceremony is the "Piping in of the Haggis" where bagpipe music is played whilst the haggis is brought into the dining room. This is immediately followed by the equally essential reading of Burns' own poem, "Address to a Haggis", whilst it's being cut.
Be warned if you're planning to recite this. It's written in almost equal parts a dialect of Scots Gaelic and English and might be difficult for people to get their tongue around.
What if I don't like the ingredients in Haggis?
Haggis isn't the most pleasant sounding dish. It's made up of a sheep's heart, lungs, and liver, mixed with oats, spices, and suet (animal fat), and then cooked inside the animal's stomach.
We promise you it's an incredibly hearty, filling, and above all, tasty dish. If you're a fan of black pudding (a traditional British sausage made of pig's blood, spices, and oats), then you're going to love haggis which has a similar taste and texture.
If we still haven't managed to convince you, you might want to try a vegetarian haggis or replace the centerpiece with salmon: a fish that is native to and abundant in Scotland. Alternatively, you can check out many of the recipes over at www.scotland.org.
But it's Veganuary and Dry January! What can I do?
Don't worry, you can still celebrate Burns night and keep faithful to your wows. For the cock-a-leekie soup, you can make your own and simply leave out the chicken or replace it with tofu or meat alternative.
For the main course, there are ranges of vegetarian haggis that may be also suitable for vegans depending on how strict you are. But the best thing to do is make one yourself. Essentially, you replace the meat with lentils or other legumes, but still keep the oats and the spices that give it its distinct flavor.
For the cranachan, you can use chilled coconut cream instead of dairy cream.
As for staying alcohol-free, the whiskey in the cranachan can be left out, or replaced with a fruit juice such as orange or apple.
Burns Night Shopping List Template
Without further ado, we give you your shopping list template which you can download and print out for free. Please be aware that the ingredients below each dish are if you wish to make your own versions instead of buying them pre-made. Because of this, some ingredients might be absent depending on the recipe you're using, so feel free to adjust these accordingly.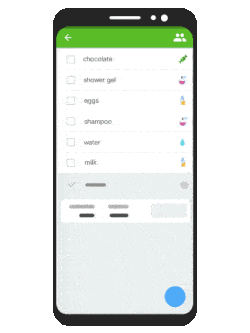 You Can Also Use Our App!
Download the highest rated shopping list app
Always with you on any device
Buy exactly what you planned
Make and share shopping lists together
See items automatically grouped into categories
Burns Night Shopping List
Starter

Cock-a-leekie soup

Chicken (or meat alternative)

Leeks

Carrots

Stock cubes

Pearl barley or rice

Dried prunes

Desert

Cranachan

Raspberries

Sugar

Cream (or coconut cream)

Oats

Whiskey (or fruit juice)

Main

Haggis (pre-made or from a butcher)

Vegan haggis

Pulses (such as black, red or green lentils)

Oats

Pearl barley

Mushrooms

Spices

Vegetable suet

Neeps and Tatties

Potatoes

Parsnips

Butter or vegetable spread

Ceremony

Copy of "Address to a Haggis"

Bagpipe music CD/playlist
Have you ever hosted a Burns supper before? What have you cooked instead of Haggis as a main? Is there anything you'd add to this shopping list? Let us know in the comments.