Halloween is approaching and you may be thinking about a spooky makeover for your garden. This year you may want to have different Halloween yard decorations to what you had last year. Maybe carved pumpkins and inflatable lawn ghosts are no longer for you? Time for change!
Top Rated Shopping List App
Share And Synchronize An Unlimited Number
Of Lists With Others Instantly and Easy
Gruesome DIY Halloween Yard Decorations
Whether you want some really frightening decorations, or some kid-friendly ones that are not too scary, this is a great opportunity for you to make your own.
Making Halloween yard decorations on your own is a good way of saving money to spend on other aspects of your Halloween, such as costumes. According to Colorado Springs Business Journal, Americans planned to spend $3.4 billion on costumes in 2017, compared to $2.7 billion on decorations in general.
Spending less on individual Halloween yard decorations means you can ensure your costumes are extra creepy this year.
Gruesome DIY Halloween Yard Decorations Shopping Dos and Don'ts
Before you start your shopping for garden decorations, here are some tips.
Don'ts
Don't use Halloween yard decorations that can possibly ruin your garden, such as leaving marks on your lawn or killing some of your plants. One day of Halloween celebrations is not worth a destroyed garden, which would need time to recover. For example, a fire in your garden may look super spooky, but can be dangerous, causing damage to your lawn and possibly even your home!
Don't use too many electrical decorations in your garden. Using many fairy lights may create an impressive effect but these will rack up your electricity bill. Try to use LED lights or glow sticks instead which will use much less or even no electricity at all.
Dos
Do start by looking in your garage for items that you need for your Halloween decorations. You may have many products there so you might not have to buy new ones.
Do check out supermarkets, hardware stores, and craft stores first for you Halloween outdoor decor. You may find lots of items that you might need there so you won't have to spend fortune in more expensive Halloween-themed stores.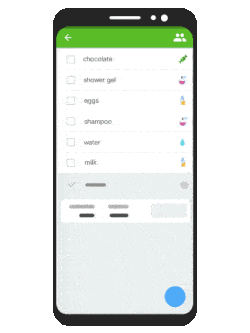 Note Everything Down with Listonic Shopping List App
Always with you on any device
Buy exactly what you planned
Make and share shopping lists together
See items automatically grouped into categories
Do use Halloween yard decorations you've used before and modify them a little bit. It'll not only save time but also money.
Do take time to properly secure your decorations. Buy some extra string to make sure your decorations don't blow away or cause injury or damage. Fasten your flat lawn decorations with metal, wooden, or plastic garden stakes.
Glowing Hands in a Pond
Do you have a pond in your backyard? Make use of it for Halloween and put in some glowing hands. It will look like a zombie is trying to get out of the pond, and look extra spooky and mysterious as they glow in the dark.
Take a couple of

white latex gloves

Put a

glow stick

in each glove (blue or green work best)

Put some transparent gel inside the glove to weigh them down

Blow up the latex gloves and tie them up like a balloon

Put them into the pond
Glowing Hands in a Pond Shopping List
White latex gloves (from $5)

Glow sticks (from $9)
Total: $14
Packing Tape Glowing Ghost
These glowing ghosts are made of clear packing tape and look really spooky, making them perfect for your backyard. They're time-consuming to make, taking a couple of hours each, so make sure you plan ahead and start making these early. It's also a great opportunity to spend some time with a friend or family member as you'll need a ghost-model.
Start by taking some

cling film

and wrap it around your model's leg

Add a layer of

clear packing tape

Use

blunt-edged scissors

to cut the cast you've made with the packing tape and cling film

Tape the cast back together once removed to recreate the shape of the leg you've just made

Repeat the action with other body parts.

Leave a hole in the ghost's body to put switched on

LED lights

inside
Remember to be particularly careful when covering the head. If you have a head-like object, such as a mannequin's head, use it as a replacement for making the cast from.
Once your ghost is made, you can decorate it with hair, a dress, or other spooky accessories.
Packing Tape Glowing Ghost Shopping List
3-4 rolls of clear packing tape (from $9)

2-3 rolls of cling film (from $2)

LED lights (from $4)

Blunt-edged scissors (from $1.50)
Total: $16.50
Raven Wreath
Ravens are deep black and glossy, which gives them this sinister look, creating a creepy aesthetic to add to your Halloween yard decorations. Try putting them on your front door in the form of a door wreath.
Find

an old picture frame

Paint it silver, red, purple, orange, or whatever color you like

Use a

hot glue gun

to stick the ravens onto the edges of the frame

Tie

a ribbon

to the top of the wreath and hang it on the front door
? TIP
---
Place the ravens on the wreath first without gluing them so you can make any adjustments to the spacing.
Optionally, you may paint their eyes red to give them an even more sinister appearance. You can also make similar wreaths in the same manner but using eyeballs or plastic skeleton hands.
Raven Wreath Shopping List
Old picture frame (from $6)

Plastic ravens (from $4)

Hot glue gun (from $3.50)

Ribbon (from $1.50)
Total: $15
Skeleton Cage
Skeletons are an essential element of Halloween. It's impossible to make it through the holiday without seeing at least a dozen! So why not trap one in your garden this year.
Take 2

round plastic washing baskets

Cut the edges off the baskets and paint them black

Take a

plastic skeleton

and place it inside one basket

Tie the two parts together with

cable ties
You may put it on the ground and secure it with a couple of metal, wooden, or plastic garden stakes, or you may thread string through the cage and hang it from a tree.
Skeleton Hands Shopping List
2 round plastic washing baskets (from $13)

Plastic plastic skeleton (from $12)

Black paint (from $2)

Cable ties (from $ 2.50)
Total: $29.50
Pumpkin Monster
Pumpkins are an absolute Halloween classic, appearing everywhere, especially in gardens. But you can make your pumpkin decorations even scarier by transforming them into pumpkin monsters.
Choose a very big

pumpkin

and carve it with a very big mouth

Place the pumpkin in your garden

Take some old clothes and fill them with scrap fabric or dry trash

Shape the clothes in the form of a person and stick this into the mouth of the pumpkin to make look like the pumpkin ate someone
Pumpkin Monster Shopping List
Large pumpkin (from $3.50)
Total: $3.50
Spy Flowers
Halloween is not usually the time for flowers to flourish, but don't worry! Using these Hallowenn yard decorations means you can not only have some beautiful flowers in your garden, but some super scary ones, too!
Buy a couple of big

plastic or fabric flowers

. It's best if their stem is long and the petals are a dark color, such as purple or red.

Buy

fake eyes

Use a

hot glue gun

to stick the eyes into the centre of the flowers

Put the flowers into the ground or in a flowerpot
Instead of fake eyes, you can use table tennis balls and draw eyes onto them using marker pens.
Spy Flower Shopping List
Plastic or fabric flowers (from $10)

Fake eyes (from $4)

Hot glue gun (from $3.50)
Total: $17.50
Cat Shadow
Put the shadowy form of a witch's familiar in your garden to warn people that mischievous magic is practiced here.
Take a sheet of

black card

Use

a pencil

or

a white marker

to draw the shape of a cat

Cut out the cat shape

Attach the silhouette to a kebab skewer, so it can be stuck in the ground
You can also add additional details to your cat shadow either by cutting out holes for it's eyes, or using some reflective material to create eyes to make they extra creepy.
Cat Shadow Shopping List
Black card (from $3.50)

Pencil/white marker (from $1)

Kebab skewer (from $5)
Total: $9.50
Skeleton Flamingos
You really like your flamingos in the garden but you want them to be all dressed up for Halloween? Or maybe you don't like them anymore and are wondering about an alternative use for them? No worries, you can transform them into skeleton flamingos!
Cover a

lawn flamingo

with

black paint

Take

some

white paint

and paint a skeleton onto the flamingo using a

thin artist's brush
Skeleton Flamingo Shopping List
Lawn flamingo (from $5.50)

Black paint (from $2)

White paint (from $2)

Thin artist's brush (from $2.50)
Total: $12
Spider Web
Decorating a garden with spiders and spider webs is a Halloween must. You can do it cheaply, easily, and quickly.
Take white or black

string

and cut a couple of long pieces off. These will form the "spokes" of your spider web.

Pin one end of each spoke in the position you want

Gather each spoke and, where they meet in the middle of the web, tie them together

Take the rest of the ball of string attach one end of the string to the middle of the web, then wrap the string around the "spokes" to create a spider web
Spider Web Shopping List
Total: $1
Yard Monster
If you have a bush in your backyard you can quickly, easily, and cheaply turn it into a yard monster. All you need to do is create some eyes!
Take a piece of

cardboard

and draw two circles on it to form the eyes

Cut out the circles

Cover the circles with

white paint

Paint some irises and pupils

Put your big creepy cardboard eyes in a bush
? TIP
---
You can create perfect circles by using a makeshift compass. To make one of these, tie a piece of string to a pen. Attach the other end of the string to the cardboard with a pin. Then, keeping the string taut, draw a circle around the pin. The longer the piece of string you use, the bigger the circle will be.
To secure the eyes, use some string and tie your eyes to the bush's branches.
Yard Monster Shopping List
White paint (from $2)

Paint for the irises (color of your choice) (from $2)
Total: $4

We "Witch" You a Happy Halloween!
Have you made any of these Halloween yard decorations before? Which one do you think will be the scariest? Do you have any other great suggestions for Halloween yard decorations? Please let us know in the comments.
For more inspiration, check out articles in our Halloween section.
Shopping Guides
How to Shop for Halloween if You Hate Halloween
Shopping List Ideas
10 Quick Last Minute DIY Halloween Decorations
13 Cheap and Simple Halloween Ghost Decorations
13 Cheap DIY Halloween Costumes for Less Than $50/£40
13 Cheap DIY Halloween Spider Decorations
DIY Halloween Kids Decorations
Blog
Have a spooky Halloween!l