Shopping can be stressful and tiring. For some people, the fewer trips they make to the grocery store or supermarket the better. Some people might also simply not have the time to shop every few days, or even make weekly trips. Whatever your reason for wanting to avoid the grocery store, or whether you're not able to make it to the supermarket often, making a good monthly grocery list will save you a lot of hassle, and more.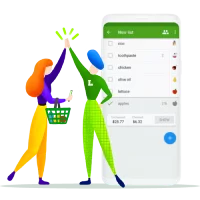 Try Our App to Save Time and Space
Share And Synchronize An Unlimited
Number Of Lists With Others Instantly
Living From Month to Month
Time is a commodity many of us feel we simply do not have enough of. Therefore, when we do have some of it spare, is the grocery store or supermarket where we really want to be spending it?
Of course not!
Though, for many, doing the grocery week by week is the best way to get all the fresh and healthy food that you want and need.
But what if we told you there was a way to make a monthly grocery shopping list that will keep you healthy and fed? What if we also told you that it could save you money as well as time?
We'll take you through some questions you might have about a monthly shopping list, and then give you a free printable shopping list template you can use to get started. If you'd rather skip straight to the template, you're more than welcome.

Monthly Grocery List FAQs
✅What sort of food should be on my monthly shopping list?
Basically, anything that will keep for a long time.
This is can be put into four main categories:
Dried food
Canned food
Jarred food & cartons
Frozen food
Dried food and jarred food & cartons are straightforward and obvious enough. We're talking items such as pasta, flour, rice, sauces, condiments, herbs and spices, juice, UHT milk, and preserved food (e.g. pickles) etc.
Food from the canned and frozen food categories are what most people are apprehensive about buying. Many consider these food items to be less healthy than their fresh alternatives. But for canned food and frozen food, this couldn't be further from the truth.
Research has shown that frozen produce loses little to none of its nutritional value compared to fresh. The same can be said with canned food. In some cases, such as with tomatoes, the canned variety is even healthier!
So, if this is the case, there's little reason to stop you from stocking up on these long-lasting foodstuffs. Doing so will certainly see you through the next 30 or so days.
Should I avoid buying fresh food?
No, actually.
Most fresh fruit and vegetables will last around 1-2 weeks if stored well. Some items, like apples, can last even longer.
This means that for the first half of the month you're going to be able to use and eat fresh fruit and vegetables before needing to grab the tin opener or creak open the freezer door. You can check out our "how to store" section to find handy guides about how to get the most out of your produce's shelf life.
But even then, you can prepare and freeze your own fresh ingredients. You can freeze prepared vegetables, like chopped onions, and put them straight into your cooking when needed. You may even have your own canning facilities at home to help preserve produce for even longer.
Even bread can be frozen and thawed with little difference in how it looks and tastes. Fresh meat can be kept for a whole month if put straight into the freezer. Milk can be frozen too if you don't mind the alternation to the texture (although, we'd suggest buying UHT milk instead).
Shopping once a month doesn't mean shunning fresh groceries at all. It just means that you have to rely on more canned and frozen varieties the closer it gets to your next shopping trip. But even then, depending on how you shop, prepare, and store your food, this might not even need to be the case.
Will I really save money with a monthly grocery list?
Generally, yes.
Canned and frozen goods tend to cost less than fresh. There are some exceptions when it comes to prepared items, such as chopped mixed vegetables, but it's generally a good rule of thumb.
Another general rule of thumb is that the more you buy in one go, the lower the cost. A 5kg bag of rice will cost less per kilo than a 500g one.
However, one of the biggest money-savers is the fact that you will be in the supermarket fewer times a month.
But how does that work?
Well, supermarkets have an arsenal of sneaky psychological tricks to make us part with our hard earned cash. These come in the guise of offers and temptations that, no matter how hard you try, are very hard to resist.
So, if you're in the supermarket less often, you won't be tempted as much. Therefore you won't be buying as many unnecessary purchases or impulse buys as you usually would if you went every week or every few days.
How much should I be putting on my monthly grocery shopping list?
It depends.
There's a temptation to say that you need "X amount for each person". But the truth is that the amount of people you're shopping for really isn't the most important factor when making a monthly shopping list. As all of these food items store for a long time. This means buying "too much" isn't an issue as it's unlikely to go off.
The main thing that should determine the amount of groceries you should shop for is storage space.
There's no point buying so much frozen food that you can't fit it all in your freezer. Likewise, constantly tripping over stacks of cans because you don't have the space to store them in your kitchen or pantry is going to make living in your home inconvenient.
So, shop for the space you have, rather than the amount of food you think you'll eat. This might mean you won't be able to go once a month. But even then, if you're making fewer trips than usual, you'll still reap the benefits.
Your Monthly Grocery Shopping List
Now that you're stocked up on some knowledge, we present to you our free printable shopping list template. Feel free to make any alterations to it to suit your shopping needs better.

Fresh Meat & Fish (for freezing)
Beef
Chicken
Cod
Haddock
Lamb
Pork
Salmon
Turkey
---
Frozen Food
Chips / french fries
Frozen vegetables
Frozen fruit
---
Dairy & Eggs
Butter
Cheese
Eggs
Milk (fresh)
UHT milk
Yogurt
---
Canned Food
Baby carrots
Baked beans
Black beans
Black-eyed peas
Chickpeas
Chopped tomatoes
New potatoes
Red kidney beans
Soup
White beans
Whole meals
---
Grains
Bread (for freezing)
Buckwheat
Bulgar wheat
Couscous
Pasta
Rice
---
Herbs & Spices
Basil
Black pepper
Chilli powder
Cinnamon
Cloves
Coriander
Cumin
Curry powder
Dried chili flakes
Garlic powder
Ginger
Nutmeg
Onion powder
Oregano
Paprika
Rosemary
Salt
Smoked paprika
Thyme
Fresh Vegetables (for using up to 2 weeks, or freezing)
Aubergines / eggplants
Avocados
Bell peppers
Broccoli
Cabbage
Carrots
Cauliflower
Courgettes / zucchini
Cucumbers
Kale
Lettuce
Onions
Potatoes
Mushrooms
Spinach
Tomatoes
---
Fruit (for using up to 2 weeks, or freezing)
Apples
Bananas
Blackberries
Blueberries
Grapes
Oranges
Peaches
Pears
Raspberries
---
Baking
Bicarbonate of Soda
Flour
Vanilla extract
Sugar
---
Snacks
Biscuits / cookies
Chocolate
Crisps / chips
Dried fruit
Nuts
Popcorn
Trail mix
---
Drinks
Cocoa / hot chocolate
Coffee
Fizzy drinks / soda
Squash / cordial
Tea
UHT juice (cartons)
---
Condiments & Jarred Food
BBQ sauce
Cranberry sauce
Fish sauce
Honey
Horseradish
Hot sauce
Jam
Maple syrup
Marmalade
Mayonnaise
Mustard
Pickled onions
Pickles
Tomato ketchup
Worcestershire sauce

What have we missed off our list? What was the most surprising food item you found out you could freeze? Do you prefer UHT milk to fresh milk? Let us know in the comments.