Finally, you're independent and moving into a new home! Obviously, you want everything to be perfect, spacious, and clean. But, above all, you want it to be a healthy environment for you to etch out your new life there. To do so, one thing you'll need to do is to make sure you have enough food in the house to prepare good food before you can shop for more comprehensive meal-making. Also, you'll need things to keep both yourself and your new abode clean. So, use this new home shopping list to get yourself settled in.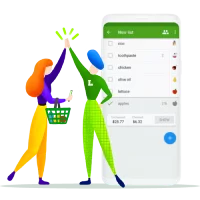 Top Rated Grocery Shopping List App
Organize your shopping, keep spending on track, create shopping lists fast & easy
New Home Grocery List
Now that you're settled in, you need to make sure you can feed yourself. But, you might not be able to cook anything too complex. Not only may there be some problems with having the correct equipment and utensils when you first move into your new home, but you're also going to be tired and might not feel like cooking much.
So, be sure to make a special grocery list for moving into your new home to keep you ticking over until you're fully settled in.
Firstly, have bottles of water at hand to quench your thirst whenever needed. This is because you might have plumbing issues, or find that the tap water isn't great or safe to drink for a while.
Tea and coffee are also a must to keep your energy levels up, so make sure they're on the list.
Regarding what to eat, try to add easy-to-prepare food to the list. Make sure you have things like pasta and sauce, and even canned soup or full meals. Not only are they quick to make, but canned food can be just as healthy as freshly prepared food. Frozen food, such as lasagna and pizza, are great choices, too, but that is dependent on whether you have a working freezer.
Also, make sure you have something to eat after spending your first night in your new home. Have milk, cereal, and bread available for breakfast.
Try and choose healthy food if you can. This will make sure you don't detriment your health whilst settling in. So, put some fruit and vegetables on your list to make sure you're getting those vital vitamins.
If you are a sweet lover, you can certainly treat yourself to chocolate or a packet of biscuits, and any other comfort food. Moving into a new home can be draining, so be sure to reward yourself.
Additionally, buy some extra food for if somebody comes to visit unexpectedly to welcome you to your new home. Have some extra rice and pasta for some satisfying and simple meals.
Biscuits
Bottled water
Bread
Canned meals
Canned soup
Cereal
Chocolate
Coffee
Frozen food (lasagna, pizza)
Fruit
Pasta
Rice
Sauce
Tea
Vegetables
Housewarming Party Shopping List
The first thing to do after moving in will probably be to throw a party for family and friends. Eating and drinking together will spread a comfortable and relaxed atmosphere around the house and make it feel more like home.
While you can ask people to come and bring their own food and drink, it's not great to make guests do all the work.
So, what should you provide?
Drinks are very important. Make sure you've got plenty of drinks to drink, such as wine, beer, and spirits. But make sure there's plenty of soft drinks too, such as fruit juice and sodas.
As for food, like your other meals, don't do anything too complicated. You want to enjoy your party, not get stressed over cooking too much.
Make something simple, like sandwiches, or heat up some pizza in the oven. Don't forget snacks like chips, crackers, nuts, and cookies.
Remember to have some vegan and vegetarian options on hand, too, as you never know who will show up.
Lastly, disposable cups, bowls, plates, and cutlery are a must for any party! This is doubly so if you haven't quite got all your crockery out of boxes yet, or simply don't own enough to cater for such a shindig.
Beer
Chips
Cookies
Crackers
Disposable crockery and cutlery
Fruit juice
Nuts
Pizza
Sandwiches
Sodas
Spirits
Wine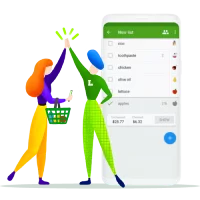 Top Rated Grocery Shopping List App
Organize your shopping, keep spending on track, create shopping lists fast & easy
Essential Cleaning Items List
Your home is unlikely going to be spotless when you first move in, regardless of how modern or new it is. Therefore, you'll need to make sure every corner of your home is spotless for enjoying a tidy and clean home afterward. Thus, take the time and effort to clean after moving in.
Apron
Broom
Bucket
Cleaning detergents
Disinfectant cleaner
Duster
Dustpan and brush
Garbage bags
Microfiber cloth
Mop
Paper towels
Rubber gloves
Sponges
Toilet brush
Vacuum cleaner
Personal Hygiene Products List
Whether you are moving in or out, you'll need to have personal hygiene products to hand. You're going to get dirty trying to clean the house, and there's nothing worse than feeling as grungy as a forgotten dusty nook.
Cotton buds
Cotton wool
Deodorant
Facial tissues
Flannel
Hair conditioner
Loofah / washcloth
Nail clippers
Shampoo
Shower Gel
Soap
Toothbrush
Toothpaste
Towels
Wet wipes
Your Essential New Home Shopping List
Now that you've read through the lists of what you need to get settled into your new home, you can use this free printable shopping list template. Feel free to add and remove things as you see fit.

Groceries
Biscuits
Bottled water
Bread
Canned meals
Canned soup
Cereal
Chocolate
Coffee
Frozen food (lasagna, pizza)
Fruit
Milk
Pasta
Rice
Sauce
Tea
Vegetables
---
Housewarming Party
Beer
Chips
Cookies
Crackers
Disposable crockery and cutlery
Fruit juice
Nuts
Pizza
Sandwiches
Sodas
Spirits
Wine
Clearing
Apron
Broom
Bucket
Cleaning detergents
Disinfectant cleaner
Duster
Dust pan and brush
Garbage bags
Microfiber cloth
Mop
Paper towels
Rubber gloves
Sponges
Toilet brush
Vacuum cleaner
---
Personal Hygiene
Cotton buds
Cotton wool
Deodorant
Facial tissues
Flannel
Hair conditioner
Loofah / washcloth
Nail clippers
Shampoo
Shower Gel
Soap
Toothbrush
Toothpaste
Towels
Wet wipes