What could be more glorious than having a new addition to the family? Having a child is a labor of love and care. But with all the doctor's visits, baby-showers, and dealing with the changes pregnancy has on you and your family, have you even started to think about a newborn baby shopping list for all those newborn essentials you need?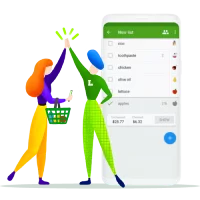 Top Rated Shopping List App
Share And Synchronize An Unlimited
Number Of Lists With Others Instantly
Baby Boom
It really goes without saying that looking after the physical and medical side of pregnancy is most important. But at the same time, thinking about what you need to be buying and preparing for your baby's arrival shouldn't be left by the wayside. Not only will you be experiencing a lot of physical, mental, and emotional changes leading up to labor, there are still many extra challenges after the birth. This means you might find putting together lists of things you need a little difficult either side of your baby's birth.
So, let us help take some of the pressure of pregnancy and early parenthood by providing you with a newborn baby shopping list. We'll also go through some handy dos and don'ts. But, you're more than welcome to skip straight to the newborn baby products list.

Newborn Baby Shopping List Dos & Don'ts
Dos
Get others to help – if you're the baby-carrying parent, you're going to be going through a lot. So don't feel bad about delegating things and getting some help on board. Even if you're the parent providing support, you'll also face some challenges and might need an extra pair of hands. But remember, too many cooks spoil the broth. You don't want the people who are supposed to be helping you ironically cause you more stress.
Prepare as early as possible – there are so many things to sort out when having a baby that makes this point much easier said than done. But, if you can get everything together as soon as possible, should any sudden events or unexpected things happen, you'll have everything primed and ready to go.
Check your local laws – did you know that some hospitals won't let the baby come home with you until you have an approved baby car seat properly fitted in your vehicle? Is the name you want to give your new baby acceptable? In some countries, you can only choose from an official baby registry of names. Laws and rules like this are really worth checking. Finding you're not ready for such things can be a real unexpected bugbear.
Prepare for a long hospital stay – it might turn out that you won't need to be spending extra time at the hospital. But if you do, there's nothing worse than not being prepared for it. Making sure you're equipped for any extra nights there certainly doesn't hurt. You needn't bring it all with you when you get admitted into hospital either. Your supporting partner, family member, or friend, can bring the extra provisions when needed, meaning you won't have to worry about bringing too much with you straight away.
Share your newborn baby shopping list – using a shopping list app with a sharing function can really help get people on board to help you prepare. Those who you've shared it with might even have some of the items you need and might lend, give or sell items cheaply to you. You can also make a wishlist for your baby shower using one and share it with your friends. This is another great and popular way to get some of the items that you need without duplication.
Don'ts
Buy everything new – if you're not careful, the costs of having a baby can mount up even before they're born. You can save a lot by looking to see if you can get hand-me-downs from friends and family. You can even buy some items second hand from thrift stores and charity shops. You can even look for online support groups that might have members that are able to sell unneeded items or even give them away from free in your area.
Newborn Baby Products List
We know you're pressed for time, so we'll get straight to providing you with your list for the hospital and for when your baby comes home.

Hospital Stay
Baby items

Change of clothes
Diapers/nappies
Muslin squares

Bag
Change of clothes
Charges for phones, tablets, and laptops
Cosmetics
Longer hospital stay bag
Medication
Personal pillow (hospital ones might be uncomfortable)
Toiletries
---
Additional Useful Baby Items
Baby carrier
Baby car seat
Baby monitor
Child view mirror for your car
Postpartum vitamins and supplements
Scratch mittens
Stroller with a rain cover
Toys and a toy box
---
Must-Have Baby Essentials
Baby bath items

Baby bathtub
Bath seat
Bath toys
Bathing oil
Cotton wool
Hooded towels
Shampoo
Sponges
Towels

Baby bed items

4-5 receiving blankets
Blankets
Cot
Mattress
Sheets
Baby changing Items

Aqueous cream
Bag
Cloth diapers/nappies
Changing mat
Cotton buds
Diapers/nappies
Moisturizing lotion
Rash cream
Talcum powder
Wet wipes
Zinc and castor oil cream (for bad rashes)

Baby clothes

Booties
Cardigans
Gloves
Hats
Jackets
Long and short-sleeved sleepsuits
Side-snap tees
Snowsuit
Sun hat

Baby hygiene items

Burp cloths
Nail clippers
Pacifier
Scratch mittens
Surgical spirit
Thermometer

Breastfeeding supplies

Bottle brushes
Bottle feeding bottles
Bottle warmer
Breast pump
Formula
Nursing bras
Nursing pads
Nursing pillow
Teats
Sterilizer kit
Bouncing Baby Joy!
We hope that this shopping list will help you better usher in a new baby boy or baby girl into your family.
Do you have any other newborn essentials that you think are missing from our baby checklist? Do you have any tips for first-time breastfeeding mothers? What's the strangest law regarding babies in your country? What are your recommendations for the best baby products? Let us know in the comments.