Tick tock. The time on ordinary watches is running out, especially when smartwatches can do many incredible things. You can even make a grocery list using our smartwatch shopping list app. In fact, using your grocery list on your smartwatch is not only easy and impressive, but it can also be used to save time when making a list and even when shopping.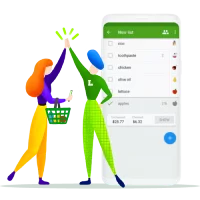 Top Rated Shopping List App
Share and synchronize an unlimited number
of lists with others instantly and easy
Leave your phone alone!
Ever find your hands full at the supermarket? Basket in one hand. Items in another. Sometimes, even kids to look after. This can make it a little tricky to look at a shopping list on your phone.
However, you can leave your phone firmly in your pocket if you've got a smartwatch.
Your Listonic smartwatch shopping list app works just like your phone app. You can:
View items

Check off items

Add items

Receive notifications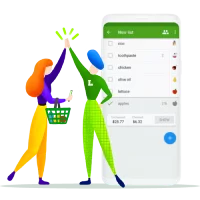 Top Rated Shopping List App
Share and synchronize an unlimited number
of lists with others instantly and easy
By having your grocery list on your wrist instead of on your phone you can be even quicker because you can do more things with your hands.
⭐⭐⭐⭐⭐
"Great with smartwatch" – Gabor Hatvani

Your Smartwatch Shopping List App Won't Leave You Out Of The Loop
Your smartwatch is incredible, but it needn't be different.
What do we mean by that?
Using our smartwatch shopping list app for your groceries won't leave you with a shopping list that is not the same as what you have on your phone, tablet, or web app. Your smartwatch grocery list is live synced just like they are on all other devices. This means that:
you'll

instantly see changes

made by people you've shared your list with

everyone will instantly see any changes you've made

you'll

receive timely notifications

about changes made by others

your smartwatch shopping lists are stored safe and secure in the cloud, meaning you'll

never lose them

(account registration required)
⭐⭐⭐⭐⭐
"Very convenient to use. Compatible with smartwatch." – Jerry Zhou
Your Smartwatch Shopping List App is as Smart as Your Smartphone
The smartwatch shopping list app is just as smart as the phone app. This means that you don't lose any of the smart features that you have on your Listonic phone app:
Smartwatch app

automatically recognizes quantity and weight

when entering an item

Items

sorted by store aisles
Notes

added to items are

just as visible
This saves you time when building new shopping lists, and also means your shop will be quicker as you won't be zig-zagging around the store.
⭐⭐⭐⭐⭐
"Good list app. Works with smart watch also." – Tracy Bryant
Talk to Your Smartwatch!
We're all in a hurry. But did you know that using direct voice input on your smartwatch can save you even more time?
Use your voice to add items or create entire lists using your smartwatch's microphone. Just say "and" between each item you want to add and, voila! Everything's there.
You can also add quantity and weight when you speak, just like in the phone app. Your items will also be automatically sorted into aisle categories.
Designed For Form and Function
Sure: Listonic works well on your smartwatch, but how does it look? It looks great, actually!
But our smartwatch shopping list app doesn't just look wonderful, it's also designed to be easy, intuitive, and quick to use, using the most up-to-date design guidelines. It's designed to work fantastically with both square and circle watches, too.
It's fast. It's easy. It's gorgeous. Your smartwatch is the perfect partner for your shopping list.
Listonic Is Even More Amazing with Wear OS
If your smartwatch uses Android Wear you're in for a treat! Listonic is developed as a standalone app for Wear OS.
But what does that mean? It means:
You

don't need your phone on

to use the app on your smartwatch

You

don't need an Android phone

to use the smartwatch app
You don't even need your phone with you to use the app. You can even leave it at home, because you don't even need an Android phone to use the Android Wear App.
That's right: you can use Listonic on your Wear OS smartwatch even if you have an iPhone!