November just wouldn't be right without Thanksgiving. For many Americans, it's the biggest event next to the holidays. But, with it brings the pressure of putting on a superb Thanksgiving dinner for family and friends, and that's no walk in the park! So, here's a Thanksgiving shopping list that will help you truly be thankful for what you have.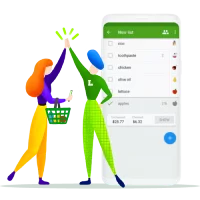 Top Rated Shopping List App
Share And Synchronize An Unlimited Number
Of Lists With Others Instantly and Easy
Keep Calm and Give Thanks
Aside from the winter holidays, there isn't any other time of the year where people come together to eat turkey and a whole host of other dishes. For the guests, it's a gut-busting and fulfilling occasion. For the hosts, it can turn into a stressful nightmare if they're not careful.
But how can you stop Thanksgiving from giving you grief?
It's simple: use a shopping list.
A shopping list will help you consolidate and plan for all your Thanksgiving meal ideas, and help you keep your focus when doing the Thanksgiving grocery shop. It will also ensure you don't become overwhelmed by the distractions of all those tempting seasonal offers, especially as succumbing to these will make you buy unnecessary products that might throw you off your Thanksgiving planning and budget.
While using a shopping list is the best thing you can do for yourself, there are also some hints and tips that are worth knowing. However, you can skip straight to the Thanksgiving shopping list if you want to.

Thanksgiving Grocery List Hints and Tips
Start preparing, and shopping, early
There's a lot to get sorted for Thanksgiving. So much so, that it's actually a big undertaking to get everything you need in one big last-minute grocery store trip. Starting your preparation early can really help keep your Thanksgiving peaceful and manageable
But how?
Shop early to avoid the crowds – the closer you get to T-Day, the more and more crowded the grocery stores are going to get. Not only can crowded shops be stressful, the worst-case scenario is that, due to the plethora of shoppers, items you need might run out.
Plan your shopping around offers – starting your shopping early means you can save money by buying things when they're on offer. An app like Sales&Deals will show you what's on special offer for any given week at many different stores. This means you can buy a particular item you need for your traditional Thanksgiving dinner menu list when discounted and have it readily sourced and stocked while simultaneously saving money.
Allow time to make adjustments – if you have everything ready a week or so before, it doesn't matter that your distant aunt and her family have suddenly decided to grace your presence. Oh, and they're all vegetarian! By getting everything done earlier you have the breathing space to get anything extra you may need.
Allow time to pick up anything you forgot – a shopping list ensures that you're more likely to buy everything you put on it. But what if you forgot to put something on the list? By prepping your Thanksgiving food list and shopping early, if anything is unexpectedly missing, there's time to get it.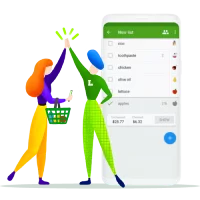 Top Rated Shopping List App
Share And Synchronize An Unlimited Number
Of Lists With Others Instantly and Easy
Give your turkey plenty of time to defrost
If you're planning to buy a frozen turkey, you must make sure you leave plenty of time for it to defrost. This can be several days depending on the size.
Wait a moment: days!?
Yes, days!
A 16lb turkey takes approximately 4 days to fully defrost. If your turkey is not thawed properly, you run the risk of giving you and your guests food poisoning, which will really dampen the Thanksgiving mood.
Consider not making so much food
This is a hard point to swallow (pardon the pun).
Thanksgiving has always been about having plenty of food. So much so, it's become a tradition to have more than anyone could physically eat.
The problems with this are two-fold:
You create a lot of food waste – this is surprisingly a big contributor to climate change. It contributes to 35% of methane emissions: a greenhouse gas that's 20 times more potent than carbon dioxide.
If costs a lot of money – you still had to buy all the food that doesn't get eaten. The average American household actually throws away $2,200 in food every year!
One way around this is to plan your meals for the next few days around the possibility of having plenty of leftovers. Think about recipes for leftover turkey, or be ready to store and reheat sides to serve alongside something else.
Otherwise, maybe think about buying and cooking less. It'll help lessen the impact on your finances, the environment, and maybe even your waistline.
Precook or buy instant and premade
There are a lot of dishes to prepare for a traditional Thanksgiving meal. So much so, it can be a massive demand for the host who has to prepare it all. One way to help lighten the load is to cook some dishes a day or two before and keep them refrigerated. This means, when Thanksgiving Thursday arrives, all you need to do is heat them up.
Some dishes lend themselves well to this. For example, mashed potatoes will not suffer from being kept cold for a while. Neither will your pumpkin pie be any less delicious if baked ahead of time. You can also prepare your chicken broth overnight in a slow cooker.
You can also save a lot of time by buying premade or instant condiments. For example, while there is nothing better than a homemade turkey gravy or stuffing, using instant-mixes might save you valuable moments in the kitchen to focus on the rest of the meal.
Your Thanksgiving Shopping List
Now that you're marinated in some great tips to make Thanksgiving preparation a little more bearable, here's a Thanksgiving food list that covers the basics. Remember, it's your Thanksgiving, so feel free to omit anything, or add your family's own traditional dishes and favorites.

Meat
---
Eggs and Dairy
---
Vegetables
Bell peppers
Celery
Carrots
Corn
Garlic
Green beans
Onions
Potatoes
Yams/Sweet potatoes
---
Fruits and Nuts
Pantry
All-purpose flour
Baking powder
Brown sugar
Cranberry cause
Gravy mix
Stuffing mix
Maple syrup
Mini marshmallows
Olive oil
---
Miscelaneous
Kitchen twine
Napkins
Roasing pan
Turkey baster
Turkey/aluminum foil
Ziplock bags (for leftovers)
---
Drinks
Apple cider
Beer
Coffee
Tea
Wine