Veganism is big news in the UK. Long-standing vegan campaigns, such as Veganuary, have gone from being a little known thing to something that everyone knows someone who did it in 2019. But how has the growing exposure of veganism affected Britons' shopping habits over the past 5 years? Are British shoppers putting less meat and more vegan products on their shopping lists? Or, is the vegan buzz just bluster?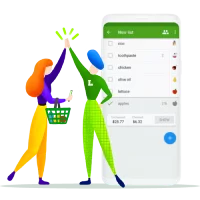 Top Rated Grocery Shopping List App
Organize your shopping, keep spending on track, create shopping lists fast & easy
2019: It Began With Vegan
"Vegan" has been perhaps THE buzz word of 2019. This year, Veganuary had the most ever official participants (over 250,000), Piers Morgan gagged on a vegan sausage roll live on television, and KFC customers made their vegan burger sell out almost immediately nationwide.
But what is veganism?
Veganism is a dietary choice that rejects food and products made from or by animals. It is touted as the most ethical and sustainable lifestyle, having a minimal environmental impact, and also free of animal cruelty. This is especially relevant in a time where we're seeing a global climate crisis and are at risk of a complete collapse of the natural world.
However, veganism is nothing new and has been around for many years. It's only now, in recent years, that there's been a lot of the pomp, fury, and fanaticism surrounding it.
But what effect has this plant-based bravado had on British people's shopping lists?
Well, the only way to find out is to look at them.
What We Did
Listonic is one of the world's top-rated and most download shopping list apps. With permission, we're able to see what items users have put onto their lists.
We looked specifically at the number of items UK users have been putting on their lists from "vegan" categories ("produce" and "grains and pasta") and "non-vegan" categories ("meat" and "dairy products") over the past 5 years.
If veganism really is a dietary choice more and more Brits are making, then their shopping lists will show the UK buying less meat and more plant-based products.
Brits Have Been Buying More Vegan Products Since 2016…
British users' shopping lists have indeed seen an increase in products from vegan categories. But it's only since 2016 that there has been a definite upward trend in the % difference gap between vegan and non-vegan products. They were buying 9.00% more in 2016, 15.67% more in 2017, and 17.58% more in 2018.
There has also been a significant increase in the frequency of specific vegan products added to lists such as almond milk, soy milk, Quorn, and tofu in the same period.
…But Are Not Buying Much Less Meat and Dairy
However, when looking at the amount of space items from vegan and non-vegan categories take up on a shopping list, it seems like UK users are not buying much less meat and dairy.
Whilst the amount of space vegan products take up on shopping lists increased +4.14% between 2016 and 2018, non-vegan products only saw a minuscule reduction of -0.77%.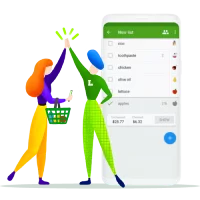 Top Rated Grocery Shopping List App
Organize your shopping, keep spending on track, create shopping lists fast & easy
Brits are Becoming More Flexitarian
These findings suggest that Britain is not really going vegan. However, the vegan message does seem to be getting through, as the evidence suggests that British shoppers are starting to turn flexitarian.
But what is flexitarianism?
Well, it means that people are increasing the amount of plant-based products and decreasing the amount of meat and animal products in their diet. However, they will not exclude non-vegan products completely.
In fact, this reduction of meat, dairy, and eggs is actually what the scientifically-backed planetary diet, which was announced in January this year, says we should do. This dietary approach is said to be able to feed the planet and prevent the collapse of the natural world.
Veganuary Only Started Effecting Shopping Habits in January 2018
Surely, with Veganuary seeing nothing but increasing publicity over the past few years, January should see the most vegan products added to users' lists compared to months, right?
Well, it only seems to have had a significant impact in 2018. Here, it saw January have the highest monthly % difference between vegan and non-vegan products for the whole year: +22.08%. This suggests that Veganuary has only started having an impact on shopping lists since then.
In previous years, the summer months (May-July) saw the highest difference between vegan and non-vegan products.
Almond Milk is the Most Popular Milk Alternative in the UK
Out of all the information available to us from our users' shopping lists, we couldn't help but peek at some of the vegan products they're putting on their lists.
Almond and soy milk have been established and popular dairy milk alternatives for some time. However, it turns our almond milk is the clear favourite among British shoppers: it's 47% more popular than soy milk!
Conclusion
So, there you have it.
British shoppers seem to be moving more towards flexitarianism than they are veganism, buying more vegan products, but not reducing their meat and dairy purchases by as much.
If you want to know more, you can read the full report.
Are you surprised by these results? Do you prefer almond milk or soy milk? Did you take part in Veganuary this year? Let us know in the comments.
For more information, and for an official press pack, please email jwaygood@listonic.com.