Environmental issues were quite prevalent in 2018, from the bane of single-use plastic to the effects of the palm oil industry. But in 2019, scientists say we should look at what we're eating as a way to prevent environmental disaster. To do this, they have come up with a healthy planetary diet shopping list that could also save the world!
Top Rated Shopping List App
Share And Synchronize An Unlimited Number
Of Lists With Others Instantly and Easy
Overview
Our interest and concern for the environment show no sign of slowing down in 2019. Especially when scientists say this year will see the highest increase of CO2 in our atmosphere. January 2019 has also seen the launch of a new diet which says it can help save the planet. But what is it, and can it really have an effect on our imperiled world?
We'll go through the tenets of the planetary diet, as well as answer some questions you might have about it. However, you're more than welcome to skip all of this and head straight to your free printable shopping list.
What is the Planetary Diet?
The planetary diet was developed by the EAT-Lancet commission. This is an international organization that has partnered with scientists, researchers, dietitians, and policymakers to look at developing healthy and sustainable world food systems. The result is a facts-based diet that has several aims:
Ensure that there's enough global food to feed an estimated earth's population of 10 billion in 2050

Reduce the global numbers of death caused by bad diets (including obesity and malnutrition)

Have a positive impact on the world's environment, namely preventing the collapse of the natural world
In order to achieve this, the commission has come up with this new plant-focused diet.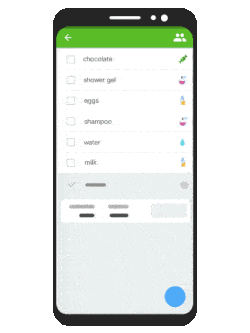 Download the Highest Rated Shopping List App
Always with you on any device
Buy exactly what you planned
Make and share shopping lists together
See items automatically grouped into categories
How Does it Work?
The planetary diet puts a large emphasis on eating a lot of vegetables, but keeping sugar, starchy vegetables, and meat and dairy, to a defined maximum.
Food

Amount per day

Equivalent to (approx.)…

Amount per week

Equivalent to (approx.)…

Meat, fish, & eggs

Beef

14g / 0.5oz

98g / 3.5oz

1x 1/4 pound burger

Chicken

29g / 1oz

203g / 7oz

1x chicken breast

Fish

28g / 1oz

196g / 7oz

1 salmon steak/1 can of tuna

Eggs

13g / 0.4oz

91g / 2.8oz

1 egg

Dairy

Milk

250ml / 1 cup

1 glass

1.75l / 7 cups

3.5 pints

Cheese

56g / 9oz

2 slices of cheese

392g / 14oz

1 block of cheese

Starchy vegetables

Potatoes

50g / 1.75oz

350g / 12oz

2 medium potatoes

Added 

sugar

All sugar

31g / 1 oz

3 apples

217g / 7oz
If you're looking at that table and thinking this would be quite the change in your diet, you wouldn't be wrong. If you hail from North America, you probably find yourself eating 6 times more red meat than this diet prescribes. Europeans and residents of Central Asia aren't much better off, eating around 4 times the defined amount.
According to the diet, your average plate should be half vegetables, and the rest made up of grains and plant proteins, and the limited fish, dairy, meat, and sugar a week that you're allowed.
So, the idea is not to cut meat from your diet, just eat a lot less to ensure we stay healthy. This will also lessen the impact that the meat and dairy industries have on the environment. This includes the release of methane from cattle contributing to climate change and the deforestation of rainforests for grazing grounds and livestock feed production. Doing this is hoped to scale back meat and dairy production to levels that are environmentally sustainable.
Frequently Asked Questions
Is it healthy?
Absolutely!
The planetary diet has been developed by top scientists, researchers, and dietitians. Its aim is to create a healthy diet for the entirety of earth's population. Eating more vegetables has been one of the keystones of dieting for a very long time, and this diet is no different. It's just this diet sees one of the most dramatic cuts in meat and dairy outside of veganism.
Will I lose weight?
Possibly.
To guarantee weight loss, you will need to make sure you're sticking to a daily calorie deficit as well as sticking to the diet. Keeping yourself active will also help shed those pounds.
The diet cuts out a lot of meat. Is it really that bad for you?
It's not that meat is bad. It's just that for the amount of saturated fat that's in it, the amount we're eating is unhealthy, especially red meat. Indeed, meat contains vital proteins that our bodies need, that can't be found in plant proteins, so we still need them in our diet. But we could certainly do without gobbling down so much. So, the idea is just to eat a lot less to ensure we're healthy.
That's not a lot of sugar. How can keep within this low range?
There's a surprising amount of sugar in food. This includes things which we might consider "healthy", such as breakfast cereal or fruit juice. So, be aware that daily 31g / 1oz needs to encompass all those. Make sure you check nutrition labels to get a better idea of how much sugar you're ingesting. You'll probably be quite surprised. You might find yourself looking for less sugary breakfast alternatives for your planetary diet meal plan.
As for killing those sweet urges, try snacking on dried fruit, nuts, and seeds, or fresh fruit. They'll add to your sugar allowance, but they are also full of fiber. This will keep you feeling full and less susceptible to hunger pangs. Fruit and herbal teas are also good for satisfying a sweet craving without increasing your sugar intake.
This diet looks familiar. Is it?
It's not surprising if you feel you've read something like this diet before. The diet is very similar to other healthy diets such as the flexitarian diet and the Mediterranean diet. All have the same core message: cut back on your meat and red meat consumption, and up your intake of vegetables and plant proteins.
Are there any other restrictions?
Although a plant-based diet, it does have restrictions on the amount of vegetables and plant proteins you should be eating each day. But this is purely with the goal of eating a maximum of 2,500 calories a day. The biggest and most important message of the diet is to significantly cut back on the amount of meat and dairy we eat, as these have the biggest impact on both your health and the environment.
If you're doing a lot of exercise and training, you might need to increase your intake in some of the areas to make sure your body has enough nutrients to stay healthy and function well.
Do I really have to be so strict with this diet?
The idea behind this planetary health diet is ideological. The combination of being healthy and environmentally sustainable for a global population of 10 billion is what defines these limits. If you're someone who eats a lot of meat, cutting back to so few portions a week might be a challenge. Likewise, some diets on the African continent use a lot of a starchy vegetable called cassava, which is also something that needs to be drastically cut.
We believe diets should never be boring or a chore to do. There are definitely plenty of incredibly tasty and fulfilling vegetarian and vegan meals out there. We heartily encourage you to try as many of these as possible, as well as possible alternatives that you might actually like.
But, if cutting back so drastically is going to make eating an unhappy or boring experience, we know you're less likely to stick to any new diet or regime. It's all about finding that balance. But if you can stick to it, it's a win-win for both your health and the environment.
Will it really save the planet?
As mentioned earlier, this is an ideological diet. Some of the diet's critics point out that factors impacting our environment are a lot more complicated than reigning in your beef burger binges. Some say it's unfair to lump individual consumers with the burden of fostering better dietary and environmentally sound behavior whilst issues like 100 companies contributing to 71% of greenhouse emissions are still a thing.
Furthermore, the diet fails to take into account accessibility to the food it champions with regards to socio-economic factors such as affordability. This means that it's not realistic for many around the world, no matter how well intended it is.
But, this shouldn't give us an excuse to dismiss it, especially when our own health is tied into the planetary diet's equation. If such a regime can reduce deaths due to obesity and heart disease, then why shouldn't we be doing it regardless of the diet's environmental credentials?
Your Shopping List
If you're curious about giving the diet a go, we've put together a nifty little planetary diet shopping list for you to download and print out. Feel free to add or take off any items to make your list your own. Be sure to also read our "How to Store" guides to find out how to optimally keep your food and increase their shelf lives.
Planetary Diet Shopping List
Meat, Fish, & Eggs
(per person, per week)Chicken (max 200g / 7oz)
Beef (max 100g / 4oz)
Fish (max 200g / 7oz)


Eggs (max 1 egg)

DairyMilk (max. 1.75l / 3.5 pints)


Cheese (max 400g / 14oz)

Plant ProteinRed kidney beans
Chickpeas
White/cannellini beans
Green lentils


Peas

GrainsBrown rice
Buckwheat
Whole wheat/whole grain pasta
Whole wheat/whole grain bread
Pearl barley


Couscous

Produce

Fruit

Apples

Bananas

Oranges

Grapes

Vegetables

Potatoes (max 2 medium)

Onions

Garlic

Aubergines/eggplants

Mushrooms

Carrots

Courgettes/zucchinis

Misc.

Dried fruit, nuts, and seeds
Fruit/herbal teas
Do you think you eat too much meat? Do you prefer the flexitarian or Mediterranean diets? What else should we be doing to save the planet? Let us know in the comments.