While Listonic is a great grocery list app, we know that some people prefer to streamline their apps and have as many things as possible in one place. If you already use a to-do list or task management app, you can also this to make, keep, and use your grocery lists. Some will certainly find this preferable to keeping a shopping list on a separate iOS or Android shopping list app. So, here are the 8 best shopping list app alternatives to kickstart your life-organization regime in 2020.

Top Rated Shopping List App
Share And Synchronize An Unlimited Number
Of Lists With Others Instantly and Easy
8 Best Shopping List App Alternatives 2020

#1 Any.do
One of the world's most popular and downloaded task management apps, what makes this one of the best shopping list app alternatives is that it actually has a built-in grocery list function. You can even convert an ordinary list you've made into a shopping list. It also automatically puts items into aisles categories making it easier to use around the store, helping you to pick up all your items.
See how Any.do compares to Listonic.

#2 Evernote
Just the sheer amount of ways you can make notes in Evernote means it's as flexible and as creative as you are. Being able to add reminders to your list or shopping list means you can get a prompt when your head is full of other tasks. The handwritten notes function is nice if you find typing on a smartphone a little tedious.
See how Evernote compares to Listonic.

#3 Todoist
Todoist is another incredible task management list. What's nice about this app is that you can designate "projects", meaning you can easily sort your groceries apart from other lists so it doesn't get muddled up with them. You can even add "priorities" to items, making them stand out. This means you'll definitely not miss picking them up. Whatsmore, it has a really good "dark mode" if you find bright screens hard to look at.
See how Todoist compares to Listonic.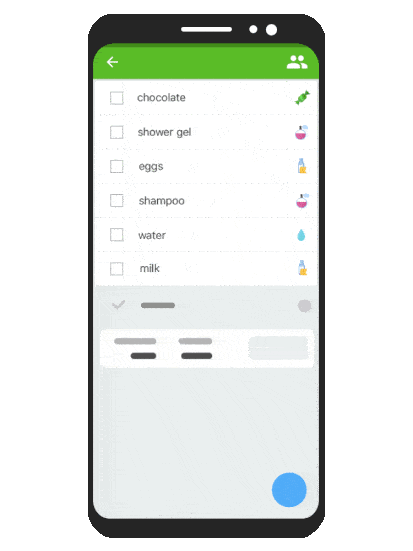 The #1 Shopping List App
Share and co-build shopping lists with friends and family
Live syncing means you see any changes to your list instantly
Predicitive text also makes smart suggestions based on popular or recent products
Add prices to items and see a running total of your grocery list
Stop typing and use your voice to make a list with direct voice input

#4 Microsoft To Do
Microsoft isn't a brand you'd immediately associate with smartphones. But this might change once you've started to use their task management app. Here, you can add separate reminders to individual tasks rather than the entire list. This means that if you really need to get a particular item on a particular day, you can make sure this happens. It also has a nice global pop-up that summarizes your tasks for the day, giving you a better insight into what needs to get done.
See how Microsoft To Do compares to Listonic.

#5 Wunderlist
Before Microsoft To Do, there was a little app called Wunderlist that took the world by storm. It's actually built by the same team behind Microsoft To Do, which is heavily based on this original and celebrated app. The main difference is the appearance, although Microsoft To Do does have a few extra features. Otherwise, it works pretty much the same as its successor. Because of this, many people still prefer, and regularly use, Wunderlist.
See how Wunderlist compares to Listonic.

#6 Google Keep
Google Keep is something you can find as part of the Google suite on your PC and Android phone. But it's something that is also a standalone app and is available on iOS, too. This is good because it's intuitive and simple interface means it's incredibly popular with users. It's particularly good for simple shopping lists and other checklists. You can even add individual items using your voice if you're a bit too strapped for time to type.
See how Google Keep compares to Listonic.

#7 Google Tasks
Another Google app that fits seamlessly into the Google suite, but also works perfectly fine a standalone app on Android and iOS, is Google Tasks. It's selling point is its pared-back simplicity. It's literally just a text checklist, and that's it. No fancy features and no colorful gimmicks: just something neat and functional. You can add extra details to items, as well as due dates for individuals products. For a simple shopping list app alternative, you really can't go wrong.
See how Google Tasks compares to Listonic.

#8 Remember the Milk
It might not be one of the task management superstars, but it's still a to-do list app that's loved by many users and makes for a great shopping list app alternative. It's easy and straightforward to set up a grocery list on here. You can set due dates and priorities with ease, too.