For all the tips, tricks, and hacks that you online for you to save money on your groceries, there has always been one simple solution that has consistently found to be the most effective: use a shopping list. This works because, when you're using a shopping list, you're not going to be tempted by the sneaky psychological tricks grocery stores use to make you spend more. Falling for these can see you put up to 50% of unplanned and unnecessary purchases into your basket. So, use one of these 8 best shopping list apps to start saving you money in 2020.

Top Rated Shopping List App
Share And Synchronize An Unlimited Number
Of Lists With Others Instantly and Easy
8 Best Shopping List Apps 2020

#1 Listonic
It's no surprise that we're including our own app in this list. But it's not just because it's some cynical marketing ploy: it's because we really think our app is great.
Why do we think that?
It's because Listonic has been heavily developed over the 10 years of its existence by the feedback and suggestions of our users. Recently, we added custom categories and the ability for the price of items to be remembered by the app.
What's more, our app offers more features for absolutely free than any other app.
There are no limits and nothing to "unlock" from the moment you download and start using Listonic. We fund the continual development of the app via ads, which you can make a one-off payment, or buy a small subscription, to disable.
So, why not take a look at the full range of features to see exactly what Listonic has to offer.

#2 That Shopping List
We highly rate this shopping list app for the same reason we think our own app is pretty good: all the features are free and unlimited from the start. You can pay a one-off fee to remove ads for good.
It might not have as many features as Listonic, but it still gets the job done and is easy to use.
See how That Shopping List compares to Listonic.

#3 AnyList
AnyList is a powerful and comprehensive shopping list app that gives its competitors a run for their money. Their biggest selling point is the built-in meal planning function, which helps you plan your grocery shopping by adding planned meals into a calendar. It's just a shame that this feature is only available to premium users.
Otherwise, a small but mighty feature is the ability to rearrange items on your shopping list using drag and drop to change their categories. You can also drag and drop the order of the shopping list categories to match the route you take around the supermarket.
See how AnyList compares to Listonic.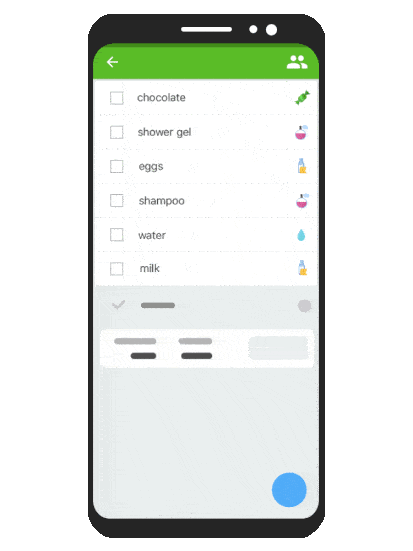 The #1 Shopping List App
Share and co-build shopping lists with friends and family
Live syncing means you see any changes to your list instantly
Predicitive text also makes smart suggestions based on popular or recent products
Add prices to items and see a running total of your grocery list
Stop typing and use your voice to make a list with direct voice input

#4 Bring!
Bring! is a shopping list app like no other. Its interface is centered around arranging your items into a grid of lovingly drawn pictures. This makes it very different from any other shopping list app. But that doesn't mean it's not functional.
This makes Bring! the perfect shopping list app for people who want a more visual experience and approach to shopping lists. Indeed, it has a large dedicated user-base and great reviews and ratings on their app store pages.
See how Bring! compares to Listonic.

#5 Our Groceries
Our Groceries is a shopping list app that is clean and easy to use. It's definitely an app for users who want something functional without too many bells and whistles attached.
In saying that, it doesn't mean Our Groceries is devoid of flexibility and ingenuity. You can add items using your voice if you're too tired for all that typing. Plus, if you pay for their premium service you can even add items by scanning barcodes using your phone.
See how Our Groceries compares to Listonic.

#6 Out of Milk
Out of Milk is a real heavyweight contender in the shopping list app market. It's feature-rich with many similar functionaliies as Listonic.
But its main draw is the "Pantry" function. This allows you to add what's stored in your pantry, and also for you to keep track of how much you have, choosing from "low" or "full". This function is perfect for large families where your pantry might be quite full making it difficult to see at a glance what you may or may not need. It also means you don't have to keep doing an impromptu stocktake every time you want to make a shopping list.
See how Out of Milk compares to Listonic.

#7 Buy Me a Pie!
Buy Me a Pie! isn't the pie-ordering app it sounds like. Instead, it's a shopping list app that's far from "crusty".
It's got a colorful and uncluttered interface that means making and using your shopping list won't be a hassle whatsoever.
The biggest drawback is that there are limits on the number of lists you can make, and the number of collaborators you can share your lists with unless you pay for Buy Me a Pie! Pro. However, if you can live within the free limits, it's a solid and noteworthy shopping list app.