In light of the growing number of people infected with coronavirus, more and more countries impose quarantine measures. Sport and music events are being canceled, cinemas and museums closed. While everybody can cope without entertainment for a while, we are all dependent on the grocery stores. The question now on everyone's lips is how to safely shop for groceries during the virus outbreak?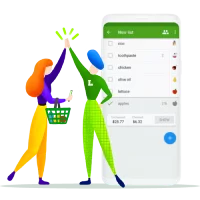 Top Rated Shopping List App
Share And Synchronize An Unlimited
Number Of Lists With Others Instantly
Should I Get Groceries Delivered?
Generally speaking, there's no such a need yet. Experts say that for most of us the chance of contracting coronavirus in stores is small, as long as we take preventative measures. However, online grocery shopping is strongly recommended for sick people and the elderly who are most at risk of catching the virus.
If you decide to order groceries online, you need to take into account possible delays. Many delivery services are booked up. Don't be surprised if you have to wait even for a few days. 
Should I Wash Groceries? 
It is believed that there is no need to sanitize your groceries. However, it certainly won't hurt to wash fresh fruit or vegetables that you are going to eat right after the delivery. After all, prevention is better than cure.
How to Safely Shop for Groceries?
Although the situation is quite exceptional, it does not require any drastic changes in the way you shop. Just a little more caution and hygiene. Here are the best tips to shop safely during the pandemic:
1. Shop less often and avoid rush hours.
As the virus is transmitted through contact with infected people, you should avoid rush hours. The chance of bumping into coronavirus between storefronts is the highest when a store is bursting at the seams. For your own safety, go to the store early in the morning or late in the evening. 
Note, however, that many stores have decided to limit shopping hours. Remember to check the opening hours of your local supermarkets before leaving the house.
2. Make a grocery list before shopping.
Have you ever had to go back to the store for a missing item? Everyone has. But now additional shopping means additional risk. With a shopping list, you won't forget anything, and you won't waste time wandering around the store.
Make a shopping list of food and cleaning products you need for a week or two. If you're looking for an inspiration for your coronavirus grocery list, you may want to read a non-perishable food list to find out which products have the longest shelf life.
3. Wash your hands before and after shopping.
There's no evidence that coronavirus is transmitted through food. However, the virus is believed to survive for up to several hours on metal objects such as shopping trolley handles. Washing your hands prophylactically just before and after shopping can protect you and others from the spread of the virus.
Also, it wouldn't hurt to keep a hand sanitizer around. Although those alcohol-based disinfectants are less effective than soap, they are a good alternative in case of an emergency in a store. 
4. Don't buy more than you need. 
It is recommended to buy up to two weeks of supplies. Buying more products than you need is counterproductive. Think of hand sanitizers, for example. It is in your best interest to enable others to have access to them because that way they are less likely to infect you. 
Besides, shops will not stop working overnight. For millions of people, they are the only source of food. While it is worth gathering food to reduce shop visits, you should refrain from nervous purchasing decisions. 
5. Use a debit card instead of cash. 
Cash is a great habitat for coronavirus, as money passes from hand to hand. Studies have proven that cash is actually covered with bacterial colonies! For additional safety, choose a contactless payment when paying at the cash desk. 
That completes our list. Have we forgotten something? How do you protect yourself from the virus? Let us know in the comments!