Creating a new shopping list every time based on what is in your kitchen cupboards is a lot like reinventing the wheel. Therefore, make a perfect master supermarket shopping list and quickly see how shopping becomes easier, more efficient, and cheaper.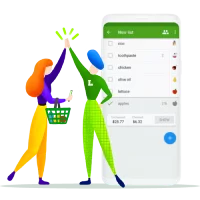 Top Rated Shopping List App
Share And Synchronize An Unlimited
Number Of Lists With Others Instantly
What is a Perfect Master Grocery List?
A perfect master supermarket grocery list contains a list of products that you always want to have in the house. This not only includes daily food essentials such as milk, bread, and eggs, but also products such as washing-up liquid, shampoo, and toilet paper. By making a list of these to use as a basis of making a grocery list when it's time to shop, you won't have to think about what you have to get every week.
But this particular list won't be the one you'll take to the store with you. It's the list from which you'll plan every other list you'll actually use. It'll be somewhere prominent, like on your fridge door. Then, when you're getting ready to do the groceries, you'll start to put these items onto your pen and paper list or into your shopping list app.
Think of it as a big mommy grocery list.
All the children will be very similar but not always the same, depending on what you need to buy that particular week.

The Advantages of a Perfect Master Supermarket Shopping List
There are many benefits of preparing a shopping list such as this. By shopping efficiently and prioritizing the most basic goods that you need, you can save a lot of money every week. Not to mention making sure you never forget them, helping you to stick to your healthy eating habits by not needing to resort to junk food. Besides, it is nice if you always have enough food at home to make a humble and quick emergency meal if you're busy or your plans have changed.
As a result, you'll no longer have to spend time thinking about what to buy every week because you've already thought of it in advance and put it on the master shopping list. This lowers risk of forgetting things when you go grocery shopping, and saves time and brainpower.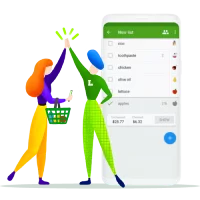 Top Rated Shopping List App
Share And Synchronize An Unlimited
Number Of Lists With Others Instantly
How To Create Your Default Supermarket Product List
First, make this list when you really have the time and attention for it. Don't try and make the list too soon before you have to do your shopping because then you are more concerned with your list for now than with a general list. Don't forget to put in the quantities that you usually buy, too.
Next, go through your bare essentials in order of category. Categories you may want to consider for you perfect master supermarket shopping list could be:
Meat & Fish
Dairy
Vegetables and fruit
Freezer
Bread & bread spreads
Dried Goods
Snacks
Care Products
Before finalizing your list, hang it up somewhere for a while. If it appears that you have forgotten something, you can still add things it as soon as you remember. Make a final list after a few weeks of making these tweaks. Then, you make want to consider laminating it so that it stays neat for longer.
How to Use Your Personal Master Shopping List
Now that you have made your perfect master shopping list, you can start using it and experience its benefits.
Plan your meals based around the ingredients you have on your master list. However, don't be scared to try something new and different. Variety is the spice of life, after all.
Calculate exactly how much of each item you need in total
Check cupboards to see what you already have, and subtract anything that you have in stock from what you need.
Create the shopping list you need for the week from all of the information above
?TIP
---
See any great weekly sales and deals coming up at your regular grocery store? Then, check whether the product is on your standard shopping list. Then you'll know for sure that it really is a bargain because you know that you'll actually use the product when it is on your list. If it's not on your list, resist the temptation to buy it. Otherwise, it's just another unnecessary extra expense.
Your Perfect Master Supermarket Items List
Efficient shopping might take a bit of preparation, but it saves money, time, and effort. Your perfect master supermarket shopping list is a great way to prepare and reap these benefits.
Below is an example of such a list. We hope it will inspire you to make your own, as well as make you think about some of the things that you might want to include on your unique list.

Meat & fish
500g pack of chicken breast
1 pack of cod
1 pack of salmon
---
Dairy
5 liters of semi-skimmed milk
6 eggs
1kg of Greek yogurt
1 500g block of cheese
---
Vegetables and fruit
1 large bag of apples
2 bunches of bananas
1 bag of mandarins
1 punnet of grapes / strawberries / blueberries / mango
1 punnet of cherry tomatoes
1 cucumber
A bag of 3 peppers
2 onions
---
Freezer
1 or 2 packs of frozen vegetable
2 pizzas
Frozen fruit for oatmeal or smoothies
Bread & bread spreads
Peanut butter
1 loaf of whole-grain bread
A bag of 8 buns
Croissants
2 packs of oatmeal
1 jar of jam
1 pack of rice cakes
---
Dry Goods
Pasta
2 cans of chopped tomatoes
1 can of coconut milk
1 carton fo almond milk
1 box of tea
1 pack of coffee
---
Snacks
1 bar of chocolate
1 packet of cookies
1 multipack of chips/crisps
---
Care products
1 pack of toilet paper
1 pack of kitchen roll
1 tube of toothpaste
1 can of deodorant
1 bottle of laundry detergent
1 bottle of fabric softener
1 bottle of washing up liquid
1 bottle of cleaning fluid
1 pack of wet wipes

Do you use a perfect master supermarket shopping list? Does it help you save money by resisting tempting offers? Do you have any unusual items on your master grocery list? Let us know in the comments.

Good luck with your list!