Healthy living begins with healthy and well-prepared groceries. If you plan in advance what you want to buy using your health-conscious ultimate grocery list, and your diet should run successfully. However, sometimes things go a bit awry and you're not able to get to the shops as planned. This means your healthy eating habits might get derailed. If you have a stock of healthy goods already at home, you can rustle something up in a pinch that won't break your healthy eating streak. So, let's find out what should be on your healthy essential grocery list so you're prepared to keep healthy no matter what your week throws at you.
Top Rated Shopping List App
Share And Synchronize An Unlimited Number
Of Lists With Others Instantly and Easy
Quick Food, But Healthy Food
On a busy day, it's tempting to succumb to the alure of quick-cooking instant meal solutions. However, these instant meals are often unhealthy and leave you hungry: even the ones branded as good for you. But, if you have easy to prepare healthy ingredients at home, you can have something humble but healthy instead.
So, here are all the must-haves you should always have in the house, including 5 super and smart types of food that is vital to keeping you healthy. With these products, you can prepare a whole bunch of healthy meals. Alternatively, you can skip straight to the free healthy essential shopping list template if you wish.

5 Types of Super Smart Food to Have on Your Ultimate Healthy Grocery List
Oatmeal
In a crisis, this can be used to creat various meals, both sweet and savory. Its high fiber content will keep you feeling full after eating any hearty oatmeal dish. It's certainly one of your evergreen grocery essentials.
Eggs
These should be unquestionably included on your essential shopping list. They're filling and jam-packed with vitamins and minerals that the body needs. Eggs can be eaten in various ways, too: scrambled, made into omelets, or just boiled. Put these on your healthy ultimate shopping list and you'll always be able to make a healthy dish for breakfast, lunch, or dinner.
Vegetables
These are staples of any shopping list, healthy or otherwise! Not only can they be cooked as healthy sides, but some are even are perfect for snacking raw after school or work. If you always have vegetables in your fridge or freezer, you can always prepare something tasty and healthy.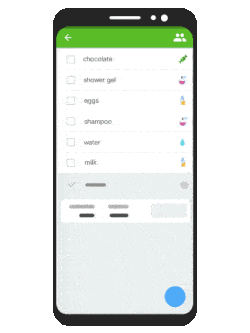 Listonic Can Help You Stay Healthy
Get healthy hints and tips about the food you buy
Re-enter your favorite healthy food quickly with smart predictive text
Keep yourself and your wallet slim by adding prices to items and get a running grocery list total
Fruit
Sweet and delicious, fruit can save you from unhealthy indulgences when you're craving for something sugary. The benefit of eating these instead of your favorite chocolate bar is that they contain vitamins and minerals that your body needs. They're surprisingly versatile, too. You can add them to a salad by cutting them into pieces to give them a fruity health boost, or mix them with cottage cheese for a delicious light meal. This will keep you from snacking, for sure.
Nuts and Seeds
Nuts and seeds contain heart-friendly fat and should be eaten several times a week to keep you healthy. They can be used as a topping on porridge or as a small snack when you're hungry. They're also rich in fiber and protein, both of which will keep you feeling full, and contain a variety of vitamins and minerals.
Your Ultimate Healthy Grocery List
Please find below a list of all the food that is crucial for keeping you stocked up at home in order to make quick healthy meals in a pinch. Feel free to add what you think should also be on this healthy essential grocery list, as well as take off anything that you wouldn't otherwise buy.

Pantry
100% natural peanut butter
Brown rice
Basalmic vinegar
Canned food

Chopped carrots
Chopped tomatoes
Peas
Sweetcorn
Tuna

Cornflour
Green tea
Honey
Legumes

Black-eyed beans
Chickpeas
Red kidney beans
White beans

Low-salt broth cubes
Low-salt soy sauce
Mustard
Oatmeal
Passata
Noodles
Sparkling water
Sugar-free breakfast cereal
Sun-dried tomatoes
Unsalted nuts

Cashews
Hazelnuts
Peanuts
Pistachios
Walnuts

Wholegrain bread
Wholegrain crackers
Wholewheat couscous
Wholewheat pasta

Lasagne sheets
Penne
Spaghetti

Wholewheat tortillas/wraps
---
Oil
Linseed oil
Olive oil
Sunflower oil
Rapeseed oil
Refrigerator
Cottage cheese
Eggs
Fruit

Apples
Bananas
Lemons
Seasonal fruit

Greek yogurt
Skimmed milk
Vegetables

Bell peppers
Carrots
Garlic
Lettuce
Onions
Tomatoes
---
Freezer
Fruit
Meat

Chicken fillets
Ground turkey
Lean beef steak

Oily fish

Mackerel
Salmon
Sardines
Tuna

Shrimp
Vegetables

Cauliflower
Green beans
Potato slices
Peas
Stir-fry mix
---
Herbs and Spices
Bay leaves
Basil
Chilli
Cinnamon
Cumin
Ginger
Oregano
Paprika
Pepper
Pink Himalayan salt
Rosemary
Thyme

If you make sure that you have all these products at home, you'll never have to stress that you can't put a healthy meal on the table. Super handy, right?

What healthy meals have you made quickly and last minute in your home? What's your favorite fruit to add to a salad? Have you ever been shocked about how unhealthy an instant meal is? Let us know in the comments.