Do your groceries spark joy? Whilst Marie Kondo is great for providing decluttering tips for your home, what about what you shop for, cook, and eat? Take the time to remove some of the excess from your kitchen by knowing how to declutter your groceries and create a minimalist grocery list.
Top Rated Shopping List App
Share And Synchronize An Unlimited Number
Of Lists With Others Instantly and Easy
Why Declutter Your Grocery List?
Our day to day lives are packed full of things: jobs, distractions, relationships, material possessions, travel, commuting, exercise. The list goes on! Among all of this, you need to find time to eat.
Cooking can either be unpleasant or simply too time-consuming for many. But relying on fast food and ready meals can have a serious impact on your health. These can often be high in saturated fat, added sugar, and sodium. Making a wholesome homemade meal with fresh and healthy ingredients is certainly the way forward.
Whilst there are many tips and tricks to saving time in the kitchen, such as using canned ingredients that can be just as healthy as fresh, we'd like to try and make being in the kitchen as manageable as possible. Therefore, we've put together a guide, inspired by minimalism and Marie Kondo, to make your grocery list clutter free and take some of the pressure and stress out of mealtime prep.
We'll take you through what it means to be a minimalist, some dos and don'ts, as well as guide you through a step by step approach to scale-down your groceries for a happier, more joyful kitchen.
What is Minimalism?
Minimalism is actually quite difficult to define. Ironically, there are many different definitions out there. Youtube stars, The Minimalists, both admit to having differences in the minimalism that they each practice. Even Marie Kondo's tidying philosophy and regime can be seen as a form of minimalism, even though it's not overtly touted as such.
But in essence, there's still one simple message that underlines all the different approaches to minimalism out there:
Remove excess from your life.
It doesn't necessarily mean trying to own a maximum of 100 items, or selling your home or your car and living out of a rucksack. It can mean these things, but it doesn't have to. Another important point is that "excess" doesn't necessarily mean getting rid of the things you love. If Marie Kondo has taught us anything, it's that if it "sparks joy", it should stay.
Decluttering Tips Dos and Don'ts
Dos
Check for places you can donate your unwanted items – thrift stores, charity shops, soup kitchens, and even food banks may well benefit from your kitchen decluttering. Even if there aren't any in your area, you might be able to find a local "freecycling" group on Craigslist or Gumtree of people willing to take stuff off your hands.
A note about soup kitchens and food banks: they will generally only accept dry goods that are within date and completely sealed/unopened. Things like unopened bags of pasta and canned food are perfect. Most will not accept fresh fruit, vegetables, or meat because of their short shelf-life and the need to be refrigerated.
Invite friends and family to help – if you feel like you're not going to make the best choices by yourself, involve others. If you live with another person or have a family, get them on board. Having this extra help might help you to make tough decisions better. Organizing a "packing party" or something similar can also help speed things along if you're pressed for time.
Buy small boxes, and bigger clear containers – these will really help with your kitchen organization. They'll help you sort and keep all your ingredients into categories as well as making it easy to see what you have and don't have.
Don'ts
Rush – one of the worst things you can do when decluttering is to rush. These things take time. So, leave plenty of it, and expect things not to be sorted out instantly.
Taking your time also helps you to focus on making decisions. Marie Kondo's method of taking a moment to thank your house and each item you throw away might seem a little bizarre, but what it does do is help you keep calm and focused on the task at hand. This means less stress and more measured choices about what to keep or chuck.
Panic – decluttering can be quite overwhelming, especially if you have a lot of stuff. But don't let that feeling take hold of you. Things may even start to look a lot worse before they get better.
This can be especially true if you're following a method of putting everything of a particular type of item into one massive pile and then sorting through it. This can be quite shocking and dismaying, but that's ok! You'll get through it in time, and you'll feel all the better when it's shifted.
Feel too guilty about waste – we can totally understand not wanting to be wasteful. But sometimes this feeling rationalizes our hoarding and does nothing to help us declutter our lives and strive for better home organization. Having a big sort out can create a lot of intimidating waste that might make you feel bad. If you can, find a way to donate or give away some of the things you don't need anymore, even if it's just to friends, family, or neighbors.
Ultimately, remember that decluttering is (hopefully) a once in a blue moon event. The point of this exercise is to remove excess from your life, and not re-accumulate it. There might be a lot of waste now, but it's a one-off.
How to Make a Minimalist Grocery List
Step #1: Marie Kondo Your Kitchen Cupboards
We all love to try new recipes. The problem is, that sometimes those new meals don't stick. This is can cause a problem when we need to buy special ingredients that we never use again. We also have a habit of forgetting things, especially if we have a lot of storage space. Something we bought ages ago might be lurking right at the back of the freezer or the pantry, neglected but preserved for prosperity.
So, have a complete clean out of your cupboards, pantry, fridge, and freezer. Once you have your pile of spices, cans, packets, ingredients, and ready meals, go through them one by one and ask, "does it spark joy"? And by this, you should be asking:
Do I like the taste of this?

Is this something I use regularly?

Is this something I could do without?

Is it excess?
You must be completely honest with yourself.
For example, 1 item might be a packet of "superfood" from last year that you bought, tried, but didn't take to. Don't allow yourself to keep it in case you "might" use it again soon. If you were going to, you would have by now. Therefore, it's excess. So, thank it, and say goodbye.
Step #2: Level Up Your Kitchen Organization
Now that you're left with only the ingredients and food items that you use and like the most, it's time to put them back. But how to organize your kitchen? Well, you'll need to do this in a way that helps you keep your pantry, fridge, freezer, and cupboard space from getting cluttered again.
The way to do this is to make your kitchen arrangement better. When you put everything back you need to do 2 things:
Group things by category

Make sure you can see everything in a category in one glance
The categories can totally be what you want them to be. Some will be obvious, like all the herbs and spices in one place. But you might want separate canned ingredients from canned soup. Or even group canned soup with packet soup.
However you decide to categorize things, you need to make sure they're arranged so that everything in that category can be seen when you look at it. This will help you make sure you know what you have, meaning there's less chance of forgetting what's there and buying duplicates.
This is where those clear containers and small boxes come in handy. Use them to help keep your categories defined, tidy, and visible. You might find you need to invest in a spice rack, or stack you canned food on top of each other rather than place them one behind the other. Just chose whatever works best for you and implement any other pantry cupboard ideas you might have. Just try and keep your things together and easy to see.
Step #3: Make a Meal Plan for a Minimalist Diet
Now that you've pared down your ingredients, it's time to start on your meals. Get together with your family and think about what you like to eat and come up with a list of your favorite food for:
Breakfast

Lunch

Dinner

Snacks

Drinks
These should not only be things that you enjoy eating but also find easy and fun to cook. If a chosen meal is complicated and too stressful to cook, really ask yourself if this "sparks joy" enough to be on this list. Alternatively, you could try and look for simpler, easier recipes for your elected entrées.
Also, try and make sure there's enough variety in what you chose so that you don't get bored.
Step #4: Create Your Minimalist Food List
Now that you have your list of meals, create your grocery list for your minimalist cooking adventure. This should be a master list of all the things you're going to need for your new minimalist diet. You might want to consider creating your own printable shopping list to help.
Once you've done this, you can go through the ingredients you already have, which are now nice and easy to see because of your revamped kitchen organization and shop accordingly.
Step #5: Stick to Your New Grocery List
Now that you have a clutter-free kitchen, a meal plan that sparks joy, and a minimalist grocery list, you just need to stick to using your pared-down shopping list. Using a shopping list whilst shopping means you're far less likely to purchase impulse buys and unnecessary items. Remember, minimalism is all about removing the excess from your life, so you need to be sure not to pile that back on too quickly.
But, nobody's perfect. Even Marie Kondo admits to having lapses and that even she can be untidy at times. If this is the case, and you find your kitchen is no longer the oasis of minimalism that it was, then you can always go through this process again.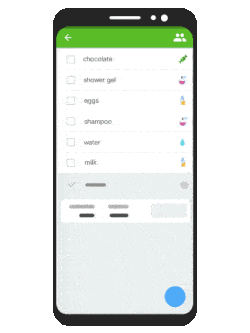 Create Your Own Mobile Shopping List!
Download the highest rated shopping list app
Always with you on any device
Buy exactly what you planned
Make and share shopping lists together
See items automatically grouped into categories
Go Forth and Minimalize!
We hope that we've provided you with the tools to make your kitchen great again, and recover the joy of cooking and eating meals.
Do you have any other decluttering tips for your kitchen or grocery list? What's the one ingredient you couldn't live without in your pantry? What's the strangest food item you've found when tidying up your cupboards? Let us know in the comments.