Have you ever wondered how your shopping would turn out if you were better prepared? It'll probably have fewer missing items and not as many unnecessary additions. But that's what master grocery list is for. It will give you better control over your grocery shopping, helping you spend less and save more. But is there anything super special or secret about a master grocery list? Not really. It's nothing more than a premade grocery list in which products are arranged by category. You can make one yourself, or use our free printable template.
Top Rated Shopping List App
Share And Synchronize An Unlimited Number
Of Lists With Others Instantly and Easy
What are the
categories
for?
Shopping gets much easier when you know the shop. You know directly where to go and in what order pick up products. To help you do this, you should have all the products on your grocery list grouped in thematic order. By doing this, you won't find yourself running around the shop because your items are in an unsorted jumble.
If you're a bit worried about how to categorize your list, don't worry. It is simply arranging your shopping items into the supermarket aisles you would expect to find them in. Bagels will be under "bakery", chickpeas will be found in the  "canned food" aisles, and ice cream in the "freezer" section. Yes, it's as straightforward as that! It's worth trying because using categories will make your time at the grocery store much more effective. If you know where to go, and everything in each category can be picked up at once, you'll get things done faster and you will be able to get home quicker.
How does a master grocery list
template
affect
meal planning?
Some people like having everything under control. Feeling in control is a lovely little side effect of being prepared. Making and using a master grocery list is part of that preparedness. Did you know that being prepared can even have positive benefits for your brain and mental health? As if you needed any more reasons to make that master grocery list!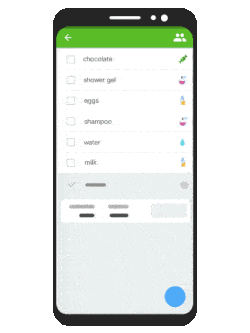 Download The Highest Rated Shopping List App
Always with you on any device
Make and share shopping lists together
Buy exactly what you planned
Use voice input to add items or create entire lists
See items automatically grouped into categories
Being prepared and in control is important, especially for people on specific diets. Here, there's no place for improvisation. Every meal must be planned meticulously. If not, you just won't have the products necessary to prepare you super specific meal.
Even if you're not on a specific diet, you can use a master grocery list to help you stay healthy. Try this healthy grocery list.
How do you make one?
Sit down for a little bit and think. What do you really need? Then start to write out all these items. If you find your list a bit too long and unwieldy, here are some decluttering tips you might find useful.
Next, think about how you're going to make and keep this master grocery list. If you are a tech-savvy person, consider using a grocery list app. Some of the apps available let you dictate entire lists. Other available functions include the ability to share your lists with your family and friends, choose items from extensive grocery databases, or even offer useful culinary tips, information about special offers in supermarkets, and tasty recipes.
Using pen and paper to create your master grocery lists is just as good, especially if you use these great tips about how to make a written list even more effective.

If you are struggling for ideas about what to put onto your list and how to format it, you can use our free premade master grocery list template below.
Your
premade master grocery list template
Dairy

Butter
Cottage cheese
Cheese
Milk
Yogurt

Grains

Bagels
Bread
Bread rolls
Buns
Doughnuts
Tortilla wraps
Cereal
Pasta
Rice

Fruit

Apples
Apricots
Avocados
Bananas
Blackberries
Cherries
Grapes
Grapefruit
Kiwi
Lemons
Limes
Mangos
Oranges
Peaches
Pears
Plums
Pineapples
Raspberries
Strawberries
Watermelons

Meat

Bacon
Beef
Chicken
Duck
Fish
Goose
Ham
Lamb
Oysters
Pork
Turkey

Snacks:

Crisps

Dried fruit

Gum

Nuts

Salsa

Pets

Vegetables

Aubergines
Beans
Beetroot
Broccoli
Brussel's sprouts
Cabbage
Carrots
Garlic
Ginger
Lettuce
Onions
Peppers
Potatoes
Radishes
Spinach
Sweetcorn
Tomatoes

Sweets

Biscuits
Brownies
Chocolate
Cake
Cookies
Honey
Jam
Maple syrup
Sweets
Waffles

Drinks

Alcohol
Cocoa
Coffee
Juice
Soda drinks
Tea
Water

Seasoning

Basil
BBQ seasoning
Cinnamon
Cumin
Curry powder
Garlic powder
Oregano
Paprika
Parsley
Pepper
Poppy seed
Rosemary
Sage
Salt
Vanilla
Thyme

Personal Care

Bath/shower gel
Feminine products
Lotion
Shaving cream
Shampoo
Soap
Sunscreen
Tissues
Toilet tissue