William Banting introduced the diet in the 1800s. Since then, it has become so popular that people from more than 172 countries are currently following it. The credit for this diet's recent popularity is down to the Real Meal Revolution campaign which promotes both the Banting and keto diets as viable healthy lifestyle choices. The diet focuses on leading a life that limits the consumption of carbs and promotes protein as well as healthy fat. But how do you start doing the diet, and what should be on your Banting diet shopping list?
Top Rated Shopping List App
Share And Synchronize An Unlimited Number
Of Lists With Others Instantly and Easy
What Does The Banting Diet Involve?
The purpose of the diet is to keep the body slim and healthy. The diet's aims are limiting carbs, and eating more healthy fat and protein. Doing this also helps to reduce the risk of developing high blood pressure and hypertension, diabetes, and other chronic illnesses. It is a simple road to rejuvenate your health and stimulate weight loss.
What the diet involves is the consumption of only "real food": food that is in its natural state and is unprocessed. In order to follow the diet, you will need to do the following:
Avoid sugar and artificial sweeteners
Cut out burgers, pizzas, fries, and other fast food
Eat healthy fat like olive oil, nuts, and avocados
Avoid toxic oil like canola and sunflower
Decrease your intake of carbs
Consume a moderate amount of protein from eggs, fish, and meat
Eat more green vegetables like broccoli, cauliflower, and beans
The correct balance of the points mentioned above should provide quick and effective results. So, let's take a closer look at how the diet works. However, you can skip straight to the Banting diet shopping list if you want.

Banting Diet Food List
The diet should be looked at in the way was as traffic lights. Food is broken down into three list: a green list, an orange list, and a red list. So, let's take a closer look at these lists:
Green List: Eat As Much as Possible
This list contains all the food that you should eat the most of on the diet. On this list are many healthy fruit and vegetables.
Protein
Vegetables
All green leafy vegetables
Artichokes
Broccoli
Cabbages
Cauliflower
Cucumbers
Celery
Garlic
Lettuce
Mushrooms
Radishes
Tomatoes
Drinks
Caffeine free herbal drinks
Flavored water
Sparkling water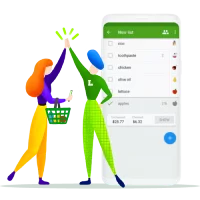 Top Rated Grocery Shopping List App
Organize your shopping, keep spending on track, create shopping lists fast & easy
Orange List: Eat Some of
This list is supposed to help you exercise self-control. It includes foods that promote good health but do not necessarily help in your weight loss journey. It includes nuts and dairy products, and caffeine products like coffee and tea. There are also some fruit and vegetables that fall into this list.
Fruit
Apples
Bananas
Cherries
Grapes
Oranges
Papaya
Peaches
Pumpkins
Mangos
Vegetables
Baby corn
Beetroot
Carrots
Corn on the cob
Nuts
Peas
Dairy
Cottage cheese
Cream cheese
Feta cheese
Milk
Milk substitutes (coconut, almond, soy etc.)
Mozzarella
Ricotta
Drinks
Red List: Avoid
You must not eat from this list. This is because food here contains processed food that is full of added sugar, bad fat, and carbs. It contains everything from juice containing preservatives to potato chips/crisps with excessive amounts of oil. Some of the highlighted items of the list are:
All energy drinks
Artificial sweeteners
Granola
Condensed milk
Confectionery items
Crackers
Frozen yogurt
Jelly/jam
Juice
Potato chips/crisps
Sunflower oil
How Do You Do The Diet?
Week 1: Banting Observation
The first phase involves introspection. The core idea is to "measure" yourself so you can better yourself. You will need to write a journal about yourself and your lifestyle and keep a record of your physical state and your relationship with food. This will help you respond to the changes that you will witness on the diet.
The observation phase helps you decide the kind of food you will opt for and prepare your grocery list.
Week 2: Banting Restoration
The next phase involves waving goodbye to all the bad food from the red list. A soon as you get rid of all the bad food, you can immediately welcome the good food into your life. Initially, you don't need to take things too intensively. You are only required to go for a sugar-free, gluten-free, and low carb diet during this phase. So, eating from the orange list is certainly allowed. The purpose is to provide you with a soft start to the diet. This way the body doesn't get a sudden shock of change.
Week 3+: Banting Transformation
This phase is an extension of the previous one. This aims at driving through some rigorous changes to what you eat. The priority must be to eat from the Banting green list only. You can resort to the orange list if it gets difficult to follow the diet strictly and you feel like giving up. You shouldn't eat from the red list at all.
The transformation phase targets unwanted fat. The stored fat in your body should start getting burned up, helping you to get a slimmer body. Apart from providing weight loss, it promotes better health, improves your sleep and your skin, and increases your energy levels. It brings about a mental as well as a physical transformation. Continue with this phase until you reach your ideal weight.
Banting Preservation
Now when you have reached your desired goals, you can ease off a little bit. However, the preservation phase doesn't mean being eating strictly from the green list. It's about ensuring what you eat doesn't make you gain unwanted weight. Gradually, you can shift to some of the food from the orange list. This last step should enable you to stay on the diet for as long as you want without gaining unwanted weight.
Banting Diet Shopping List
The results are going to be tremendous as long as you stick to the diet. Be diligent and be honest to yourself at the beginning, and listen and respond to your body. Like many diets, this diet can be hard work. But, get the grasp of it and it will be smooth sailing with happy and healthy results.

Green List
Protein
---
Vegetables
All green leafy vegetables
Artichokes
Broccoli
Cabbages
Cauliflower
Cucumbers
Celery
Garlic
Lettuce
Mushrooms
Radishes
Tomatoes
---
Drinks
Caffeine free herbal drinks
Flavored water
Sparkling water
Orange List
Fruit
Apples
Bananas
Cherries
Grapes
Oranges
Papaya
Peaches
Pumpkins
Mangos
---
Vegetables
Baby corn
Beetroot
Carrots
Corn on the cob
Nuts
Peas
---
Dairy
Cottage cheese
Cream cheese
Feta cheese
Milk
Milk substitutes (coconut, almond, soy etc.)
Mozzarella
Ricotta
---
Drinks