At this time of year, children's imaginations are working overtime. Whilst some children may be a little scared, there will be many who can't wait until they are able to put on their costumes, go trick-or-treating, and eat lots of Halloween candy. What helps to engage this burst of creativity is making Halloween kids decorations.
Top Rated Shopping List App
Share And Synchronize An Unlimited Number
Of Lists With Others Instantly and Easy
However, many traditional decoration activities and Halloween crafts, such as carving Halloween pumpkins, can be a little unsuitable for children as they may get hurt or the tasks are too difficult for them. Instead, allow them to make decorations for their room on their own, or with your help. This can also help you cut down what you spend on Halloween party decorations as these handmade decorations are made of mostly paper and adhesive tape which usually don't cost too much.
Check out ideas for cheap DIY Halloween kids decorations.
DIY Halloween Kids Decorations Shopping Tips

Do focus on simple Halloween crafts. The products used for such decorations are not difficult to use and are cheap and easy to work with.
Do recycle decorations and accessories for other celebrations, such as birthdays, and adapt these to become Halloween party decorations.
Do make shopping lists. By making a shopping list you can keep better track of what you've bought and what you still need to buy, reducing the potential for missed items or duplicates. You may use an electronic shopping list, such as Listonic, which has many convenient features, such as a sharing and a pricing function.
Do check at home first for whether you have the materials needed for the crafts. It may prevent you from buying unnecessary items, saving you even more money, and helping you be a bit more environmentally-friendly by recycling.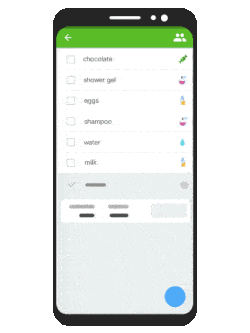 Create Your Own Halloween Shopping List!
Download the highest rated shopping list app
Always with you on any device
Buy exactly what you planned
Make and share shopping lists together
See items automatically grouped into categories
Witch's Hats
A witch is one of Halloween's most recognizable symbols. A homemade one doesn't take up much time or money.
Use

the adhesive tape

to stick

a birthday cone hat

to

a paper plate

Paint the hat

black

Thread a piece of

string

through the top of the hat

Hang it wherever you want
Additionally, you may cover the witch's hat with glitter or cover it with fake cobwebs.
Witch's Hat Shopping List
Birthday cone hat (from $1.50)

Paper plate (from $2)

Double-sided adhesive tape (from $3)

Black paint (from $2)

String (from $1)
Total: $9.50
Witch's Legs
If you have a pair of tights and a pair of old and battered boots, you have almost everything to make these witch's legs. Preferably, the color of the tights should be purple, black, orange, or a combination of these colors.
Fill tights with any kind of

fabric

or

dry waste

Put on the boots on the ends of the stuffed tights
You may place the legs under the bed, the couch, or even the doormat.
Witch's Legs Shopping List
Total: $5
View this post on Instagram
Paper Bats
Making bats made of paper are classic Halloween kids decorations. Despite their simplicity and easiness to make, these can still look quite impressive.
Fold a sheet of

black paper

in half

Draw a half of a bat with a pencil. Make sure the body of the bat is where the fold in the paper is.

Cut out the bat

Unfold the paper to see the full bat form
You may thread a string through a bat's head and hang it somewhere, or use double-sided adhesive tape to stick the bat to the wall or any piece of furniture.
With this Halloween kids decoration you can also add as many extra details as you like. You can cut out fangs using pieces of white paper and stick them to the bat, or add some googly eyes. You might even consider painting a used toilet roll tube black and attaching it to your paper bat to make it more 3D.
Paper Bats Shopping List
Sheet of black paper (from $2)
Total: $2
Spider Web on the Floor
A spider web on the floor using string may not be the safest option. Instead, create a spider web using electrical or washi tape.
Choose a place on the floor where you want to have your spider web

Use electrical or washi tape to create a spider we
Spider Web on the Floor
Electrical or washi tape (from $2)
Total: $2
View this post on Instagram
Mummy Juice Bottle
Creating a mummy out of a plastic bottle is a great way of recycling waste. It's also easy and quick to make so that even small children can have a go at creating one.
Take an empty

bottle of juice

Cover the bottle with narrow

white elastic adhesive bandage

Glue

the googly eyes

on the front
Mummy Juice Bottle Shopping List
Juice bottle (from $4)

White elastic adhesive bandage (from $3)

Googly eyes (from $1.50)
Total: $8.50
Black Cat Balloons
Balloons are often used for decorating parties. But even if you're not planning to throw a Halloween party, you can still use balloons to decorate a child's room for Halloween.
Blow up some

black balloons

Cut cat ears and whiskers out of

black paper

Use

double-sided adhesive tape

to stick the ears and whiskers to the balloon
You may also create bat and spider balloons in a similar way using similar materials.
Halloween Balloon Shopping List
Black balloons (from $1)

Black paper (from $2)

Double-sided adhesive tape (from $3)
Total: $6
View this post on Instagram
Monster Door
Monsters can be pretty scary as costumes, but have you ever thought of creating monster decorations, such as a monster door?
Cut small circles out of

black paper

Use

double-sided adhesive tape

to stick these circles to

white paper plates

to create eyes

Use double-sided adhesive tape to stick the eyes to the door

Use

masking tape

to create a mouth
You can also be as creative as you want with these. You can create as many eyes as you want, and also use different pieces of colored paper to create different features such as hair and teeth.
Monster Door Shopping List
Black paper (from $2)

Double-sided adhesive tape (from $3)

White paper plates (from $2)

Masking tape (from $2)
Total: $9

Have a Spooky Halloween!
Creating these Halloween kids decorations should be all about fun and spending time together. Be creative and adjust these ideas to your needs and your imagination.
Read our other Halloween shopping list ideas to get more inspiration for Halloween decorations.
Let us know what you think of these ideas for Halloween kids decorations or share your own ideas for DIY Halloween kids decorations in the comments.
For more inspiration, check out our other articles in our Halloween section.
Shopping Guides
How to Shop for Halloween if You Hate Halloween
Shopping List Ideas
10 Quick Last Minute DIY Halloween Decorations
13 Cheap and Simple Halloween Ghost Decorations
13 Cheap DIY Halloween Costumes for Less Than $50/£40
13 Cheap DIY Halloween Spider Decorations
Gruesome DIY Halloween Yard Decorations
Blog