Although Listonic has been around for a while, we know we're not the only grocery list app out there. There are specific grocery list apps such as Out of Milk and Bring, as well as the ability to make grocery lists on to-do list apps like Any.Do. But, our app development is always driven not by what we think is most convenient, but by the needs of our users. But let's forget that we make a grocery list app for a moment, and ponder what are the 7 features the best grocery app should have.
Top Rated Shopping List App
Share And Synchronize An Unlimited Number
Of Lists With Others Instantly and Easy
7 Best Grocery App Features
#1 Fully Free
Everyone loves something for nothing. When was the last time you paid for an app? We'd be surprised if you ever paid for one. But there's nothing more frustrating than downloading a "free" app and finding that you have to pay to "unlock" certain features. You might be limited to a certain number of lists that you can make and have to pay to create more.
✅
---
Listonic is completely free to use. When you download it, you have access to its full functionality for absolutely nothing. You can make an unlimited amount of lists, create an infinite number of custom categories, and share lists with every single one of your friends and family without having to spend a penny. The only micro-transaction you may choose to make is a subscription or one-off payment to remove ads from the app.
That's it.
No nasty surprises or limitations.
We're 100% free.
#2 Share and Co-Create With Your Nearest and Dearest
What's the point of being connected to those closest to you if you can't show off the things you create. One of the most important features of a grocery list app is the ability to share your grocery lists. It's one of the main reasons you might want to make a list on your cell phone or tablet. Otherwise, pen and paper will suffice.
But just sending an image isn't good enough. You should also be able to create lists together. A good shopping list app will allow the people you share lists with to make adjustments and additions. This means everyone has a say about what they want or need, and nothing gets missed out or forgotten.
✅
---
Listonic allows you to not only share lists, but it allows people to co-create and edit lists. Everything is synced to the cloud. This means you'll instantly see any changes that are made or receive a timely notification about changes. Listonic's shopping lists are fully cooperative.
#3 Items Sorted Aisle by Aisle
There are some things that are always the same across most supermarkets. Fresh fruit, vegetables, and flowers at the entrance, for example. But everything else differs from store to store.
However, things are always grouped by category. Baked beans are in the "canned food" aisles, yogurt is in the "diary" section, and bagels are in the "bakery".
We think, when you make a shopping list in a grocery shopping app, items should be grouped and sorted into the requisite aisles. This means you can see everything you need to pick up from an aisle in one go, saving you darting around the store in the order things are written on your list.
✅
---
Listonic does exactly this! But to give you even more control, you can sort the order your categories appear in your grocery list, reassign items to different categories to match your supermarket, or even create custom categories (see below).
#4 Price and Budgeting Function
Shopping lists are a great way to help you keep costs down. Saving precious pennies and budgeting are just as important to families now as they have always been. So, we think that a grocery list app should play a key role in this.
The best grocery app should allow you to not only add prices to items but also add them up to give you a projected total of what your shopping is going to cost you. This means, that you can make adjustments and cost-cutting decisions before you even head to the supermarket.
✅
---
Listonic's price function does just this. In addition, as you check off items on your shopping list, it will give you running totals of what you bought, and the total of how much is left to buy. Prices that you previously entered for items are also remembered by the app. These are then either suggested or added automatically when making a new list.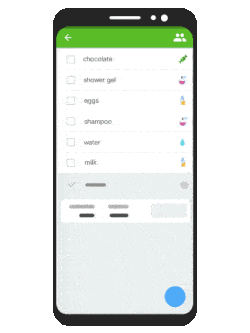 Download the Top-Rated Shopping List App
Always with you on any device
Buy exactly what you planned
Make and share shopping lists together
See items automatically grouped into categories
#5 Voice Input
Mobile devices are becoming more and more hands-free. We can also use our voice to control devices in our homes, quickly search for something, or play music using voice assistants such as Alexa, Siri, or Google Home.
Grocery list apps should have voice functionality, too. Adding, removing, or making entire lists using just your voice should be possible. Also, being fully integrated with voice assistants is quickly becoming a must.
❎
---
Listonic doesn't have full voice assistant integration yet. But this is something we're working on as we speak.
#6 Custom Categories & Items
Many grocery list apps offer a wide range of categories for everyday grocery items that you can quickly add to your list. But what if you're looking for something unique or hard to find? What if something is listed in a category that is not the same as the aisle in your supermarket? Or what if you're making a shopping list or a checklist for something that isn't grocery shopping?
Being able to make your own items and create your own categories makes your list more flexible and more "you". It gives you greater control about how you use it and what you use it for.
✅
---
Listonic offers the ability to make your own custom categories free of charge, and without limits. You can also add your own custom items and assign them these custom categories without any issues.
#7 Smart Suggestions
Predictive text is nothing new. But rather than just taking a guess based on what letters you're punching into your keyboard, why can't a grocery list app suggest things that might be relevant?
Up to 66% of our shopping lists have the same items on them week in, week out. So, rather than waiting until you type in enough letters for your phone or tablet to suggest something, it should first suggest what you usually buy when making a new list. Furthermore, it could suggest related products, such as ketchup and mustard for your weiners.
✅
---
Listonic's predictive input suggests your most frequent or your most recent items when creating a new list before you even start typing. This makes creating your grocery list an even quicker task.
Bettering the Best
We like to think that Listonic has more of these features, or at least as many, as some of our competitors. But that doesn't make us rest on our laurels. For the past decade, we have constantly been developing Listonic to make it better for one group of people and one group of people only: our users.
So, if you don't have our app installed, why not download it from Google Play or Apple Store and see if we measure up to our competition?
What do you think of our 7 best grocery app features? Are we missing anything? Have you made any great custom categories in Listonic yet? What feature would you like to see added next in Listonic? Let us know in the comments.